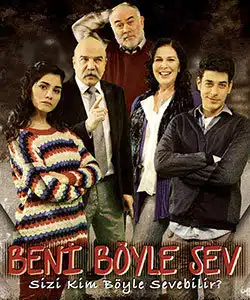 Details
Original Title: Beni Boyle Sev
English Title: Love Me As I Am
Also Known As:
Genre: Romance, Comedy, Youth
Episodes: 89
Broadcast Network: TRT 1
Broadcast Period: February 11, 2013 – February 27, 2015
Production Company: BSK Yapim
Director: Cem Tabak
Screen Writer: Hakan Haksun, Mujdan Kayserli
Synopsis
Aysem (Zeynep Camci) is a young and beautiful girl who is in her first year at the university, math department. She comes from a small city but starts to live with her uncle in Istanbul after she is accepted to her school. Her father, Nail (Guven Kirac), still lives in that small city and makes a living by cooking meatballs in his small restaurant.
On the other hand, Omer (Alper Saldiran) is young and handsome guy who goes to the same university with Aysem. Omer is a second year student at the architecture school. He belongs to a rich family and lives with his parents in a big house in Istanbul.
In the spring semester, on the first day at school, out of pure coincidence, Aysem and Omer bumps into each other. They fell in love each other at first sight. Although they come from different backgrounds, they get along with each other very well. After a few days, Omer and Aysem decides to get married. However, both of their families disagree for their relationship.
Omer's parents want their son to get married to a girl who comes from a rich family while Aysem's father does not want his daughter to get upset due to the attitudes of Omer's family. For this reason, both parents strongly opposes to this marriage.
In love me as i am (beni boyle sev) tv series story, you will explore a pure love story of Omer and Aysem who comes from confronting families. You will also discover friendships, family relations, class difference between rich and poor families etc. Will Omer and Aysem overcome all the obstacles in front of their ways? Will their families eventually approve their marriage?
Cast
Alper Saldiran as Omer
Zeynep Camci as Aysem
Erdem Akakce as Haluk
Bala Atabek as Fahriye
Mert Turak as Nezih
Burcu Biricik as Seda
Yusuf Akgun as Furkan
Burcu Altin as Reyhan
Altan Gordum as Reha
Lale Mansur as Nadide
Guven Kirac as Nail
Selen Ucer as Eda
Eda Ece as Zeyno
External Links
Imdb:
Official Site:
You Might Also Like
Angels Bless You (Melekler Korusun)
Daydreaming (Kavak Yelleri)