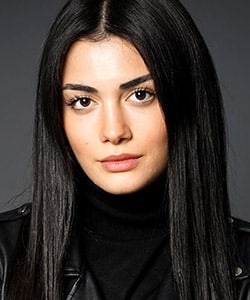 Profile
Name: Ozge Yagiz
Birthdate: September 26, 1997
Birthplace: Istanbul, Turkey
Height: 169 cm
Eye Color: Brown
Hair Color: Black
Education: Baskent University Communications Academia (Baskent Universitesi Iletisim Bilimleri Akademisi)
Talent Agency: Icon Talent Management
Spouse:
Biography: Ozge Yagiz was born in 26 September 1997 in Istanbul. She is the smallest at 4-member family. She studied communications at Baskent University and took acting lessons at No10Studies. She made her debut with her role at tv series You Name It (Adini Sen Koy) in 2017. After then, she took part in soap opera The Promise (Yemin) which was broadcasted at tv channel Kanal 7.
Ozge Yagiz Tv Series / Movies
2018 – You Name It (Adini Sen Koy) (as Zeliha)
2019 – 2020 The Promise (Yemin) (as Reyhan Tarhun)
2020 – My Left Side (Sol Yanim) (as Serra)

Awards
From Interview with Ozge Yagiz
Question: Do you have any similarities between you and your role as Reyhan (The Promise)?
Ozge Yagiz: We both are patient.
Question: How did you meet acting?
Ozge Yagiz: While I was studying for my final exams, I found myself on the set. It was urgent but special. It is not necessarily true that each door that is opening to you is true. You need to be prepared for everything at comes to you after opening the door in this sector.
Question: What have you learnt from acting career?
Ozge Yagiz: More sacrifice, devotion and personal development.
Question: Do you have a dream role?
Ozge Yagiz: I would like to act as a psychologist
Question: Your fans call you as "new Turkan Soray". What do you think about it?
Ozge Yagiz: It is amazing. It is enough just to be called that way. Turkan Soray is just one and I am a big fan of her.
Question: You have a pure beauty. While you were growing up, did you always feel that?
Ozge Yagiz: Beauty is a relative thing. Rather than beautiful, I have always found myself natural. I believe that naturalness brings beauty. In my opinion, beauty comes from inside. If our heart is beautiful, then we are beautiful as well.
Question: When did your interest in acting start?
Ozge Yagiz: In fact, I found myself in acting all of a sudden. But, after I started acting, I said that "you must do it".
Social
Instagram: https://www.instagram.com/ozgeyagizz/
Twitter:
Facebook:
E-Mail:
Trivia
Body Type:
Skills:
Zodiac Sign: Libra
Blood Type:
Hobbies:
Weight: 52 kg
Ozge Yagiz Gallery