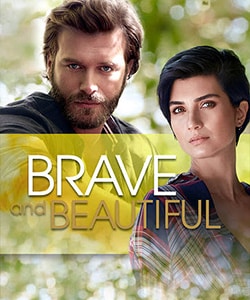 Details:
Original Title: Cesur ve Guzel
English Title: Brave and Beautiful
Also Known As: Ek Haseena Ek Deewana, جسور والجميلة, Xhesuri dhe e bukura, Bosszú vagy szerelem, Cesur, Jasoor, Die Vreemdeling
Genre: Romance, Drama
Episodes: 32
Broadcast Network: Star Tv
Broadcast Period: November 10, 2016 – June 22, 2017
Production Company: Ay Yapim
Director: Ali Bilgin
Screen Writer: Ece Yorenc
Synopsis
Cesur (Kivanc Tatlitug) is a young man who comes back to Korludag, a small city outside of Istanbul in order to take revenge from Tahsin Korludag (Tamer Levent). When he was a little child, his father and his grandparents were killed by Tahsin Korludag and then, his mother got into depression due to sorrow. Cesur has been raised under difficult conditions and has always aimed to plot his revenge when the correct time comes.
On his way to Korludag, Cesur unexpectedly bumps into Suhan Korludag (Tuba Buyukustun) and saves her life without knowing that she is the daughter of his enemy. He decides to take over his enemy's most weak spot in order to reach his target. He settles into a territory that is close to the big ranch house of Korludag family and starts to plot his plan so as to get everything that Tahsin Korludag owns.

Cesur's arrival changes the life of Korludag family drastically. Even though Suhan is engaged to Bulent (Serkan Altunorak), she starts to question her love. She tries to be far away from Cesur who seems to hide something but she finds herself closer and closer to him as time passes.
In brave and beautiful (cesur ve guzel) tv series story, you will explore a love between two different persons who are destined to be together. Will Cesur manage to get his revenge and reveal all the truth about Tahsin Korludag? Will Cesur forget about his past for the sake of Suhan? Will Suhan break off her engagement with Bulent and start to have a new life with Cesur?
Brave and Beautiful (Cesur ve Guzel) Tv Series Cast
Kivanc Tatlitug as Cesur Alemdaroglu (episodes 1-32)
Tuba Buyukustun as Suhan Korludag (episodes 1-32)
Tamer Levent as Tahsin Korludag (episodes 1-32)
Erkan Avci as Korhan Korludag (episodes 1-32)
Serkan Altunorak as Bulent Aydinbas (episodes 1-32)
Sezin Akbasogullari as Cahide Korludag (episodes 1-32)
Devrim Yakut as Mihriban Aydinbas (episodes 1-32)
Nihan Buyukagac as Adalet Soyozlu (episodes 1-26)
Firat Altunmese as Kemal (episodes 1-32)
Irmak Ornek as Sirin (episodes 1-32)
Okday Korunan as Salih (episodes 1-22)
Gozde Turkpence as Banu (episodes 1-32)
Isil Dayoglu as Reyhan (episodes 1-32)
Zeynep Kiziltan as Hulya (episodes 1-32)
Cansu Turedi as Necla (episodes 1-32)
Mufit Kayacan as Rifat Ilbey (episodes 1-32)
Tilbe Saran as Fugen (episodes 2-16)
Yigit Ozsener as Riza (episodes 15-32)
External Links
Official Site: https://www.startv.com.tr/video/arsiv/dizi/cesur-ve-guzel
English Wikipedia:
Imdb:
You Might Also Like
Rebellious (Asi)
Forbidden Love (Aski Memnu)
Brave and Beautiful Tv Series Gallery
Brave and Beautiful (Cesur ve Guzel) Tv Series Trailer (with English Subtitle)
Brave and Beautiful (Cesur ve Guzel) Tv Series Trailer (Eng Sub)
Brave and Beautiful (Cesur ve Guzel) Turkish Drama Trailer 2 (with English Subtitle)
Brave and Beautiful (Cesur ve Guzel) Turkish Drama Trailer 2 (Eng Sub)