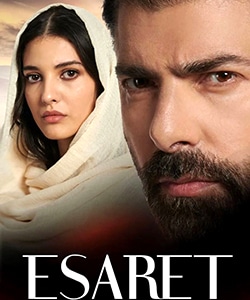 Details
Original Title: Esaret
English Title: Redemption
Also Known As:
Genre: Romance, Drama
Episodes: 160+ (each episode is 90-100 minutes)
Broadcast Network: Kanal 7
Broadcast Period: November 21, 2022 – present
Production Company: Karamel Yapim
Director: Ayhan Ozen, Serkan Mut
Screen Writer: Basak Yazi Odasi
Filming Locations: Istanbul, Sakarya
Synopsis
Orhun Demirhanli (Cenk Torun) is a successful businessman who has a wealthy life in Istanbul. He is a cold-hearted and strong man who does not have mercy. His merciless character resembles his mother Afife (Melahat Abbasova).
Orhun's twin sister goes to Eritrea as a volunteer doctor despite her family's disapproval. After a while, nobody can contact her, and starts to worry about her life.

As the head of the family, Orhun decides to go to Eritrea in order to bring her sister back to Istanbul. Out of pure coincidence, he comes across Hira (Mahassine Merabet) in the middle of the desert. Hira is a beautiful young girl who is a slave at the hands of a local gang.
Orhun saves Hira's life from these gang members. However, he could not save his sister. He learns that his sister has become a target of a local gang just because she protects the medical supplies. That's why, Orhun's sister is poisoned and killed by a local gang.
After learning about his sister's death, Orhun becomes so mad and kills the leader of the local gang. At that time, he also finds out that it was actually Hira who poisoned his sister.
Orhun makes an evil revenge plan. He takes Hira Istanbul with him and decides to make her life miserable. Instead of killing her, he owes to killing her each day. He owes to make her every breath as poison to her.
Hira gets rid of a local gang but she becomes a captive in Istanbul this time. She starts to live in Orhun's house as if she is a slave. She explains that she did not know that the food was poisonous. She also regrets giving that food to Orhun's sister but she cannot persuade Orhun.
Redemption (Esaret) tv series story is about a cold-hearted man Orhun who keeps Hira as a captive in order to take his sister's revenge. Will Orhun forgive Hira and end his evil plan? Will Hira find happiness in Istanbul? Will Orhun and Hira find redemption after paying all their dues?
Redemption (Esaret) Tv Series Cast
Additional Cast Members
Tayfun Yilmaz as Sait Demirhanli
Ceren Su Gulnaz Ozcelik as Nihan Demirhanli
Mehmet Berkay Baygin as Haluk
Sinem Karacoban as Nefes
Pervin Mert as Perihan
Yaren Yildirim as Eda
Esra Demirci as Feriha
Ugur Toprak Satir as Kaleli
Bulent Ergun as Rasit
Oncil Aktarici as Asiye
Zeki Ocak as Yakup Usta
Kerem Tanik as Vedat
Cem Odabasoglu as Engin Karci
Basak Durmaz as Vuslat
Fulya Ozcan as Halise
Gozde Erdem as Gulnur
Hazal Tasbek as Sebnem
Ugur Dalmis as Yavuz
Mustafa Simsek as Sevket
Gamze Yarka as Saadet Eroglu
Mbaye Dieng as Musa
Mustafa Can Savas as Ali
Selin Ileri as Harika Taskin
Characters:
Orhun Demirhanli is a cold-hearted and successful businessman who has a wealthy life.
Hira Demirhanli is a beautiful young girl who has suffered throughout her life.
Afife Demirhanli (Melahat Abbasova):
Afife Demirhanli is the mother of Orhun. She is very dominant. She hates people of lower status and she is obsessed with "pure blood".
External Links
Official Site: Broadcast Network
English Wikipedia:
Imdb:
Social
Instagram: Instagram – esaretkanal7
Twitter: Twitter – @esaretkanal7
Facebook: Facebook – Kanal7Esaret
Youtube Channel: Youtube – @esaretdizisi
You Might Also Like
Legacy (Emanet)
Gulcemal
Redemption (Esaret) Turkish Series Trailer (with English Subtitle)
Redemption (Esaret) Turkish Series Trailer (Eng Sub)