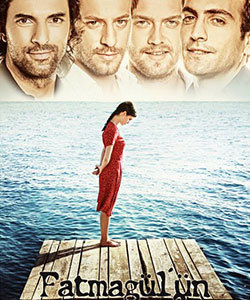 Details
Original Title: Fatmagul'un Sucu Ne?
English Title: What is the Fault of Fatmagul?
Also Known As: Fatıma Gul, Izgubljena čast, Fatimagul – Benim'un Suçu Ne, ¿Qué culpa tiene? Fatmagül, Fatmagül: A Força do Amor, فاطما گل, Фатмагүл, فاطمة, Grzech Fatmagül
Genre: Drama, romance
Episodes: 80
Broadcast Network: Kanal D
Broadcast Period: September 16, 2010 – June 21, 2012
Production Company: Ay Yapim
Director: Hilal Saral
Screen Writer: Ece Yorenc, Melek Gencoglu
Synopsis
Fatmagul (Beren Saat) is a beautiful and naïve girl who lives in Cesme (a touristic place in western Turkey). Due to the death of her parents, she lives with her brother. She plans to get married Mustafa (Firat Celik) in the summer. She loves him and wants to get married as soon as possible in order to overcome the emotional pain of grudging charity of her sister-in-law.

An unforgettable tragedy transforms Fatmagul's life so radically that she will never be able to go back to the way she used to live. One day, she is raped by four people, Kerim (Engin Akyurek), Vural (Bugra Gulsoy), Erdogan (Kaan Tasaner), and Selim (Engin Ozturk). In order to shade the sins of rapists and protect them, Fatmagul is forced to remain slient and get married to one of her rapists. Fatmagul's whole life changes after this tragedy but bad things never end. After this tragedy, her fiancée Mustafa doesn't want to be with her so breaks their marriage promise.
Now, Fatmagul is alone and has no choice, but to get married to Kerim. She wants nothing more than to forget about her checkered past and live the rest of her life quietly and at peace with the world. While she tries to start over a new life in the big city, the story becomes more complicated when her ex fiancée follows her to Istanbul?
In What is Fatmagul's Fault tv series story which is the adaptation of Vedat Turkali's novel, you will explore a dramatic story of a beautiful and innocent girl. Also, this story attempts to answer whether two people – two enemies because of sins and mistakes of others – can learn to love each other in a marriage agreed only on paper. Will Mustafa catch up with Fatmagul and learn the truth? Will the rape shade the innocence? Will the past be forgotten?
What is Fatmagul's Fault Tv Series Cast
External Links
Official Site: https://www.ayyapim.com/en-us/fatmagul
Imdb:
English Wikipedia:
Youtube Channel: https://www.youtube.com/fatmagulunsucune/
You Might Also Like
Beyond the Clouds (Bir Bulut Olsam)
The Fall of Leaves (Yaprak Dokumu)
What is Fatmagul's Fault Turkish Drama Relationship Chart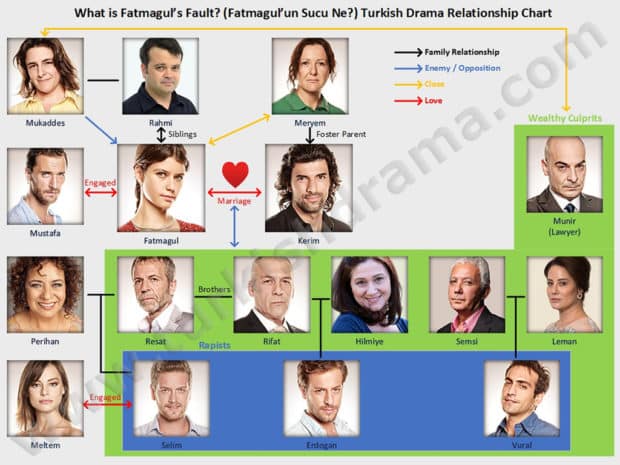 Review
One of the most popular dramas in 2010. Beren Saat's last drama. Episode raitings are very high.