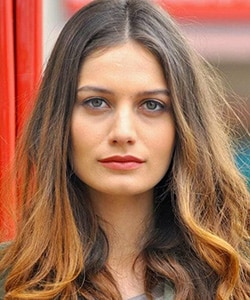 Profile
Name: Gulcan Arslan
Birthdate: May 1, 1986
Birthplace: Sakarya, Turkey
Height: 172 cm
Eye Color: Blue
Hair Color: Brown
Education: Sadri Alisik Culture Center Theatre (Sadri Alisik Kultur Merkezi Tiyatro Bolumu)
Talent Agency: Rezzan Cankir Management
Spouse:
Biography: Gulcan Arslan was born on May 1, 1986 in Sakarya. She studied theatre at Sadri Alisik Cultural Center and appeared in many series and commercials. She made her debut in Turkish series "Sardunya Street", which aired on TRT1. In 2008, she played in the tv series "Class" and "One For All".
Gulcan Arslan Tv Series / Movies
2007 – Sardunya Street (Sardunya Sokak) (as Canan)
2008 – One for All (Hepimiz Birimiz Icin) (as Mine Pekmezci)
2008 – Class (Sinif) (as Zehra)
2008 – Birds of Exile (Gurbet Kuslari)
2009 – Kafkas
2009 – Heroes (Kahramanlar) (as Figen)
2011 – Entelkoy as Opposed to Efekoy (Entelkoy Efekoy'e Karsi) (Movie)
2011 – Despite Everything (Herseye Ragmen) (as Leyla Acikalin)
2011 – The Girl I Loved (Bir Cocuk Sevdim) (as Mine)
2013 – Back Streets (Arka Sokaklar) (as Leyla Candas)
2014 – Gunahkar (as Saliha Tezhanli)
2015 – 2016 Magnificent Century: Kosem (Muhtesem Yuzyil: Kosem) (as Fahriye Sultan)
2017 – Until Death (Olene Kadar) (as Beril Karali)
2019 – Rich and Poor (Zengin ve Yoksul) (as Nihal Tastan)
2021 – My Home My Destiny (Dogdugun Ev Kaderindir) (as Nesrin / Gulbin Goksu)
2021 – Barbarossa: Sword of the Mediterranean (Barbaroslar: Akdeniz'in Kilici) (as Despina)
Social
Instagram: https://www.instagram.com/gulcanarslann/
Twitter:
Facebook:
E-Mail:
Trivia
Body Type:
Skills:
Star Sign: Taurus
Blood Type:
Hobbies:
Weight: 57 kg
Gulcan Arslan & About Nights
Gülcan Arslan ve About Nights ile DELi.DOLU.bir gece