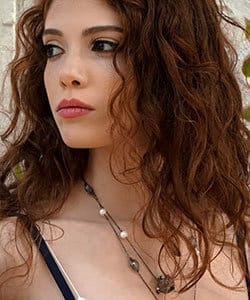 Profile
Name:
Su Kutlu
Birthdate:
January 1, 1991
Birthplace:
Istanbul, Turkey
Height:
166 cm
Eye Color:
Brown
Hair Color:
Brown
Education:
Matteo Destro Maske Oyunculugu Atolyesi, 2018
Talent Agency:
Onem Gunal Agent Management
Spouse:
Biography:
Su Kutlu was born in Istanbul on January 1st, 1991. After her father left home, she started to live together with her painter mother. Su Kutlu made her debut with a tv commercial Eti Maximus and after then, she started her acting career with her role in Playing Nanny (Hayatimin Rolu). She did not get theatre training when she started her acting career but after taking part in various projects, she started to work with some acting trainers and took acting lessons at Matteo Destro. Su Kutlu has a rebellious character since her childhood and she loves travelling and seeing different countries.
Su Kutlu Tv Series / Movies
2012 – Playing Nanny (Hayatimin Rolu) (as Amelya)
2013 – Ali Loves Ayse (Ali Ayse'yi Seviyor) (as Nazli)
2013 – Lovebird (Calikusu) (as Misel)
2014 – Beautiful Villager (Guzel Koylu) (as Sude Sumbul)
2015 – Tutar mi Tutar (as Isik)
2016 – Friends Forever (Arkadaslar Iyidir) (as Gizem Subasi)
2016 – She Was Pretty (Seviyor Sevmiyor) (as Simya)
2017 – Among Family (Aile Arasinda) (as Zeynep) (Movie)
2017 – Oath (Soz) (as Merve)
2018 – May a Miracle Happen (Bir Mucize Olsun) (as Damla)
2018 – Cukurdere (as Damla)
Social
Instagram: https://www.instagram.com/suukutlu/
Twitter:
Facebook:
E-Mail:
Su Kutlu Gallery
Su Kutlu Turkish Actress