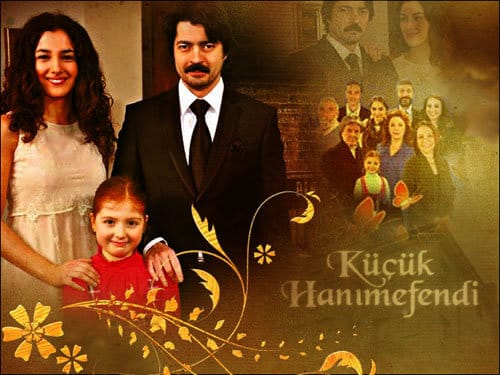 Details
Original Title:
Kucuk Hanimefendi
English Title:
The Little Lady
Also Known As:
Genre:
Romance
,
Drama
Episodes:
40
Broadcast Network:
TRT 1
Broadcast Period:
February 25, 2011 – March 2, 2012
Production Company:
At Yapim Atalay Tasdiken
Director:
Serpil Kurtca
Screen Writer:
Muazzez Tahsin Berkand
,
Hakan Haksun
,
Yelda Eroglu
,
Mert Mericli
Synopsis
Neriman (Cansu Tosun) is a young girl who lives with her step mother and step sister. After her father's death, she could not have a normal life. Because of her step mother, she becomes addicted to depression pills and she could not believe that she would be a normal girl again.
Neriman quits her education, spends all her time in her small room and is not allowed to speak with anybody else except her nanny Nevres (Zeynep Irgat). The only person that she can trust in this world is her nanny who lives with her and never leaves her alone despite the hardships in the house.

Neriman's step mother Fehime (Derya Alabora), wants to inherent all the wealth. She does not want to share all these properties with her step daughter. Therefore, she wants to make Neriman crazy, sends her to the rehabilitation center, and enjoys a rich life with her own daughter. However, nanny Nevres realizes all these things and wants to save Neriman.
One evening, she secretly goes outside and finds one of the close friends of Neriman's father. She explains all the devil plans of Fehime and asks for his help. They together make a plan to save Neriman. According to that plan, Neriman would get married to Omer (Baris Bagci) and would give all the authority of her money to her new husband.
Thanks to this plan, Neriman escapes from her house and in the following day, immediately gets married to Omer. She becomes happy and starts to believe that she would be happy with her beloved husband. However, she does not know that her husband will not consider this marriage as a real marriage. Omer is a handsome young man and belongs to a rich family but he accepts to get married to Neriman in order to solve the financial problems of his family.
In The Little Lady (Kucuk Hanimefendi) tv series story, you will explore a modern Cinderella story. Will Neriman manage to get rid of all the hardships in her life? Will the marriage of Neriman and Omer solve the problems of inheritance? Will the Cinderella story come true for Neriman?
The Little Lady Tv Series Cast
Cansu Tosun as Neriman
Baris Bagci as Omer
Riza Sonmez as Munir
Arsen Gurzap as Saziye
Zeynep Irgat as Nevres
Derya Alabora as Fehime
External Links
Official Site: https://www.trt1.com.tr/arsiv/kucuk-hanimefendi
English Wikipedia:
Imdb: https://www.imdb.com/title/tt5356226/
You Might Also Like
Gumus (Silver)