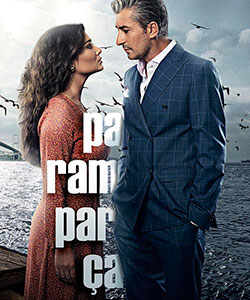 Details
Original Title: Paramparca
English Title: Broken Pieces
Also Known As: Förväxlingen, Broken Hearts, Gebroke Harte, Vidas cruzadas
Genre: Romance, Drama
Episodes: 97
Broadcast Network: Star Tv
Broadcast Period: December 1, 2014 – March 27, 2017
Production Company: Endemol Yapim
Director: Cevdet Mercan
Screen Writer: Yildiz Tunc
Filming Locations: Istanbul, Turkey
Synopsis
The lives of two people from different backgrounds intersect with an accident. Gulseren (Nurgul Yesilcay) who is a young and beautiful girl living in poor neighborhood of Istanbul is hit by a car and brought to a hospital to give a birth.
Meanwhile, Dilara (Ebru Ozkan) who belong to a rich family gives a birth to her own baby at the same hospital. The babies are given to wrong parents: the baby girl of Gulseren is given to Dilara and the baby girl of Dilara is given to Gulseren.
15 years later, we see that Gulseren lives with her daughter Hazal (Alina Boz). She has been trying to do her best to look for her daughter after her husband has left her. She works at a small store as a saleswoman.

Meanwhile, we see that Dilara lives with her daughter Cansu (Leyla Tanlar). She has a rich life but has some problems with her husband Cihan (Erkan Petekkaya).
Another car accident brings these people together. Cansu makes a car accident and gets injured. After this accident, her parents learn that they are not the biological parents of Cansu. This fact turns the lives of all these people upside down.
Cansu has been raised in a rich family and has enjoyed a wealthy life whereas Hazal has been raised in a poor family and has been ashamed of not having brand new clothes or trendy cell phones.
In broken pieces (paramparca) tv series story, you will explore the family relations between parents and children. How will Gulseren and Dilara react when they learn that they are not the biological parents of their daughters whom they have raised for 15 years? How will Cansu react when she learns that her true mother is a poor woman? How will Hazal react when she learns that she belongs to a rich family but unfortunately, she has been raised in a poor family?
Broken Pieces (Paramparca) Tv Series Cast
External Links
Official Site:
Wikipedia:
Imdb:
Social
Instagram:
Twitter: @Paramparca
Facebook: @ParamparcaDizi
Youtube Channel: @ParamparcaDizi
You Might Also Like
That Life Is Mine (O Hayat Benim)
Broken Pieces (Paramparca) Tv Series Trailer (with English Subtitles)
Broken Pieces (Paramparca) Tv Series Trailer (Eng Sub)
Broken Pieces (Paramparca) Turkish Drama 2nd Season Trailer (with English Subtitles)
Broken Pieces (Paramparca) Tv Series 2nd Season Trailer (Eng Sub)
Broken Pieces (Paramparca) Turkish Series 3nd Season Trailer (with English Subtitles)
Broken Pieces (Paramparca) Tv Series 3nd Season Trailer (Eng Sub)