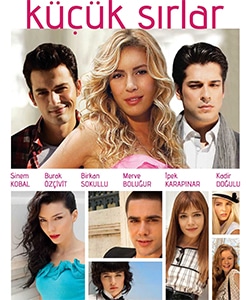 Details
Original Title: Kucuk Sirlar
English Title: Little Secrets
Also Known As:
Genre: Romance, Youth
Episodes: 55
Broadcast Network: Kanal D, Star Tv
Broadcast Period: July 14, 2010 – September 2, 2011
Production Company: Tims Production
Director: Kerem Cakiroglu, Cevriye Demir
Screen Writer: Nukret Bicakci, Aylin Aliveren
Synopsis
Su (Sinem Kobal) is a beautiful, intelligent and sportive girl who belongs to a rich family. She lives with her granny and is always at the center of attention. Each student at school considers Su as a perfect girl and each boy wants to be her first boyfriend. Even her close friend Arzu (Ipek Karapinar) is jealous of her success and her perfect life.

Aysegul (Merve Bolugur), on the other hand, is a beautiful but ambitious girl who wants to lower Su's popularity. She lives with her mother, step-father, and step-brother Cetin (Burak Ozcivit) whom she never gets along with very well. She has a troubled life and never refrains from doing wrong things in order to win. And, she becomes more competitive and dangerous when she realizes that her boyfriend Ali (Kadir Dogulu) has some feelings towards Su.
When Su discovers that her lovely father has one-night stand with young girls and her brother has been using drugs, she realizes that she does not have a perfect life. She tries to get over these family problems by herself because she knows that she has to keep it as a secret in order to protect her family reputation. During that time, she gets a great help from Demir (Birkan Sokullu) who is a student at her school via scholarship and does not belong to a rich family. However, she is underrated among her classmates when her family problems are revealed by Aysegul. Now, Su has to deal with the problems not only at her house but also at her school. She just wants to have someone whom she can trust: Ali who shows his attention directly or Demir who is secretly in love with her.
In little secrets (kucuk sirlar) tv series story, you will watch the lives of the wealthy and privileged teenage characters in their high school years. Will Su manage to get over her family problems? Will Demir manage to reveal his true feelings towards Su? Will Aysegul become the most popular girl at the school?
Little Secrets (Kucuk Sirlar) Tv Series Cast
External Links
Imdb:
Wikipedia:
Official Site:
You Might Also Like:
Pretty Little Liars (Tatli Kucuk Yalancilar)
Revenge (Intikam)