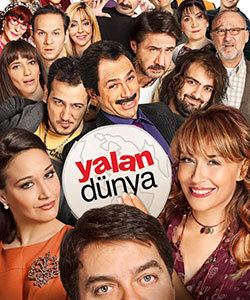 Details
Original Title:
Yalan Dunya
English Title:
Fake World
Also Known As:
Genre:
Comedy
,
Romance
Episodes:
90
Broadcast Network:
Kanal D
Broadcast Period:
January 7, 2012 – November 19, 2014
Production Company:
D Production
Director:
Jale Atabey Ozberk
Screen Writer:
Gulse Birsel
Synopsis
Kocabas family, originally comes from Antakya, lives in Istanbul. The head of the family is the father Sehmuz (Altan Erkekli) who lives with his wife Servet (Fusun Demirel), his daughter Gulistan (Hasibe Eren), his son-in-law Selahattin (Olgun Simsek), his son Riza (Beyazit Ozturk), and his grandson Orcun (Bartu Kucukcaglayan). Riza is engaged with Nurhayat (Gupse Ozay) but never wants to marry her. He could not continue to do whatever his family wants and at the end, he decides to live as he wishes and breaks up with Nurhayat. Now the whole family tries to reconcile them.

Meanwhile, Deniz (Gulse Birsel) comes to Istanbul in order to be famous. She gets a small role in one of the Turkish soap operas. When she arrives at the film studio for an audition, she realizes that there is no female protagonist for the soap operas. Out of pure coincidence, Deniz becomes the main actress. Now, she has to find a place to live and start her new life.
However, Deniz finds that rent prices in Istanbul is too high for her. Therefore, she decides to rent a house with her friend Acilay (Nihal Yalcin) whom she has met at the film studio. They find a beautiful house which is owned by Sehmuz but they keep it secret that they are famous in order to rent this house. Deniz, her brother Bora (Oner Erkan), and her friend Acilay now start to live in this house. However, the story becomes more complicated when Riza falls in love with Deniz.
In fake world (yalan dunya) tv series story, you will watch comedy, friendship, family relations, anger and hope at the same time. Also, you will find your mouth constantly smiling and laughing while watching this television series. Will Riza start a new life with Deniz or stay with Nurhayat? Will Deniz become famous?
Cast
Gulse Birsel as Deniz
Beyazit Ozturk as Riza
Altan Erkekli as Sehmuz
Fusun Demirel as Servet
Olgun Simsek as Selahattin/Ahmet
Hasibe Eren as Gulistan
Sarp Apak as Emir
Oner Erkan as Bora
Nihal Yalcin as Acilay
Bartu Kucukcaglayan as Orcun
Tuna Orhan as Tufan
Omur Arpaci as Reis
Hakan Mericliler as Cagatay
Irem Sak as Tulay
Gupse Ozay as Nurhayat
Gonul Ulku as Afife
External Links
Official Site: https://www.kanald.com.tr/yalandunya
English Wikipedia:
Imdb: https://www.imdb.com/title/tt2184065/
You Might Also Like
European Side (Avrupa Yakasi)
The Large Family (Genis Aile)
Gallery
Generic Music
Fake World (Yalan Dunya) Tv Series