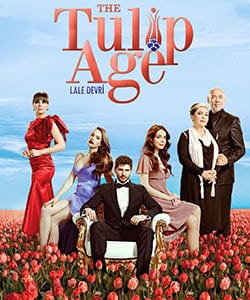 Details
Original Title: Lale Devri
English Title: The Tulip Age
Also Known As: Polje lala, Láska v Istanbule, Lale, Лале, لاله دوره, Сезони на любовта, Junoon Tere Pyar Ka, و حب في مهب الريح
Genre: Romance, Drama
Episodes: 135
Broadcast Network: Show TV, Fox TV
Broadcast Period: September 14, 2010 – February 8, 2014
Production Company: Avsar Film
Director: Kemal Uzun, Merve Girgin, Yasin Uslu
Screen Writer: Berfu Soner, Eylem Canbolat, Isil Sonmez Sarhan, Sema Ergenekon, Sebnem Citak
Synopsis
A wealthy Ilgaz family is a typical conservative Anatolian family which is very successful and at the peak of their business. The only son of Ilgaz family is Cinar (Tolgahan Sayisman) who is very handsome and successful. Cinar is very respectful to his mother Ikbal (Gul Onat) and his uncle Necip (Kenan Bal) who are stick to traditions and would do anything to keep the family together.
On the other hand, Taskiran family is a long-established,wealthy and modern family from Istanbul. After the death of the family patriarch, Taskiran family faces with bankruptcy. The mother of the family, Zumrut (Hatice Aslan) is an ambitious person and would do anything to keep her standards high. She has two girls Lale (Emina Sandal) and Yesim (Serenay Sarikaya).

Cinar and Lale fall in love and decide to get married. Despite the differences between their families, they get married in a secret way. The hidden marriage between Cinar and Lale crosses the parths of these two families.
In the tulip age story, you will explore the lives of two families and the events, disputes, tricks and intrigues surrounding around these families. Are Cinar and Lale really made for each other? Will the love of Cinar and Lale stand for all the twists? Will Yesim manage to attract Cinar and steal the man who loves from her sister?
The Tulip Age Cast
Tolgahan Sayisman as Cinar
Serenay Sarikaya as Yesim
Selen Soyder as Toprak
Emina Sandal as Lale
Hatice Aslan as Zumrut
Kenan Bal as Necip
Gul Onat as Ikbal
Pamir Pekin as Cansel
Aykut Yilmaz as Kerem Taskiran
Ayten Soykok as Reyhan Ilgaz
Aysegul Gunay as Sultan Yesilyurt
Serif Sezer as Nedret Ilgaz
Selma Kutlug as Seref Karagul
Ulvi Alacakaptan as Seref Karagul
Ipek Erdem as Munevver Hancioglu
External Links
Official Site: http://www.fox.com.tr/Lale-Devri
English Wikipedia: https://en.wikipedia.org/wiki/Lale_Devri
Imdb: http://www.imdb.com/title/tt2024922/
You Might Also Like
Yer Gok Ask (Love in the Sky)