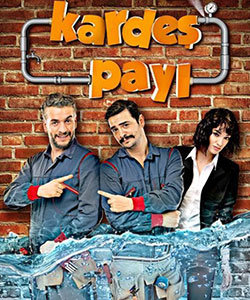 Details
Original Title: Kardes Payi
English Title: Equal Share
Also Known As: Brotherhood, Trivia
Genre: Comedy
Episodes: 35
Broadcast Network: Star Tv
Broadcast Period: February 13, 2014 – April 30, 2015
Production Company: NTC Media
Director: Selcuk Aydemir
Screen Writer: Selcuk Aydemir
Synopsis
Two brothers Metin (Ahmet Kural) and Ali (Murat Cemcir) are plumbers with no scientific education. Ali is a widower but still goes around his ex-wife. Metin is in love with the pharmaceutist at the neighborhood but cannot gain her hearth no matter what he does. Their sister Feyyza (Seda Bakan) works at the gas station and secretly loves the gas pumper.
Metin, Ali and Feyyza live happily together even though they argue most of the time due to trifling issues.

To prove their talent to their crazy scientist father; Metin and Ali try to invent something that would make the world a better place. They decide to make a revolutionary motor that work with boron instead of gasoline. They work so hard at the back of their plumbing company when they are free. Nobody believes that they would eventually succeed but they manage to fulfill their goal.
Not only the life of two brothers but also the life of the neighborhood change when the revolutionary motor works. While they are dreaming to bring peace and happiness, they need to overcome so many obstacles.
In equal share (kardes payi – brotherhood) tv series story, you will explore the absurdist comedy revolving around Metin, Ali, Feyyza. Will Metin and Ali manage to bring peace and happiness? Will Feyyza eventually disclose her platonic love? Will Ali manage to gain the trust of his ex-wife? What will happen to the neighborhood residents after revolutionary motor?
Equal Share Cast
Ahmet Kural as Metin
Murat Cemcir as Ali
Seda Bakan as Feyyza
Ali Ihsan Varol as Yigit
Ayse Kokcu as Hamiyet
Sinasi Yurtsever as Buyuk Hilmi
Ipek Yaylacioglu as Eda
Berfu Ongeren as Sukriye
Korhan Herduran as Oguzhan
Samet Gursal as Onay
Emrah Kaman as Emrah
Ayhan Tas as Sezai
External Links
Official Site: https://www.startv.com.tr/video/arsiv/dizi/kardespayi
English Wikipedia: https://en.wikipedia.org/wiki/Kardeş_Payı
Imdb: https://www.imdb.com/title/tt3671754/
Social
Instagram: https://www.instagram.com/kardespayiamf/
Twitter: https://twitter.com/kardespayistar
Facebook: https://www.facebook.com/kardespayi/
Youtube Channel: https://www.youtube.com/channel/UCkNFyS-Zwj_K92CKno5wjwQ/
You Might Also Like
Isler Gucler
Leyla and Mecnun (Leyla ile Mecnun)
Gallery (Photos from NTC Media)