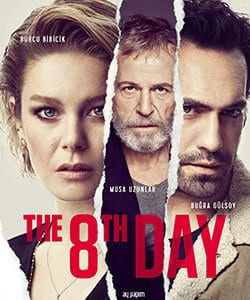 Details
Original Title:
8. Gun
English Title:
The 8th Day
Also Known As:
Genre:
Mistery
,
Action
Episodes:
6
Broadcast Network:
Atv
Broadcast Period:
March 19, 2018 – May 7, 2018
Production Company:
Ay Yapim
Director:
Cagri Vila Lostuvali
,
Ender Mihlar
Screen Writer:
Toprak Karaoglu
,
Savas Korkmaz
,
Seda Calisir
Synopsis
Bahar (Burcu Biricik) is a beautiful young woman who has everything in this life: a lovely husband Ahmet (Yigit Kirazci) and a wealthy life. She lives happily with her husband and is expecting her first baby.
Bahar's perfect life turns upside down in one day. Her mother Sehnaz (Ceyda Duvenci) who works as a software engineer in a prestigious company is announced to die in an airplane crash. Nobody finds the airplane and dead bodies yet. Hence, Bahar does not believe that her mother is dead because she knows that her mother Sehnaz has a height phobia and never gets on the plane before calling her daughter.
In fact, Sehnaz is kidnapped so that she could develop a computer code that she has erased for security reasons. She is a successful engineer who is responsible for developing a computer code for national defense industries. When she finishes coding, she discovers that someone in her company hacks into a computer system to control national defense industries.

In order to prevent this, Sehnaz erases the computer code that she has been working for 4 years. However, she finds herself in the middle of chaos: she is announced as traitor who has erased computer code that would be used for national defense industries, she is kidnapped but it is announced that she is dead at airplane crash, and she is forced to write the same computer code again.
Sehnaz's disappearance changes Bahar's perfect life as well. The traitors go to Bahar's house to check whether she has computer code or not. Bahar and Ahmet get injured during the fight and find themselves in the middle of chaos. In order to save his own life, Ahmet leaves her wife behind instead of protecting her. After they are attacked by traitors, Bahar suffers a miscarriage and finds herself all alone. Her perfect life changes dramatically all of a sudden: her baby is killed, her mother is gone, and her lovely husband has left her alone to save his own life.
Bahar never forgives her husband. She leaves her house and her beautiful life behind and goes to her best friend's house. Now, she has a very different life ahead. She needs to survive while she tries to unveil the mystery behind all these things.
On her way to investigate the suspicious death of her mother, Bahar meets Ozan (Bugra Gulsoy). Ozan is actually one of the traitors that have attacked Bahar but he introduces himself as an innocent man who reluctantly enters into this chaos. Ozan saves Bahar's life and wins her trust.
In The 8th Day (8. Gun) tv series story, you will watch how perfect life of Bahar changes dramatically when her mother disappears mysteriously. Will Bahar manage to survive and unveil the mystery behind her mother's disappearance? Will Ozan help Bahar in all honesty or use her to find secret computer code?
The 8th Day Tv Series Cast
Burcu Biricik as Bahar Yuksel
Musa Uzunlar as Hayati Sahin
Bugra Gulsoy as Ozan Tas
Ceyda Duvenci as Sehnaz Yuksel
Cem Davran as Aziz Boztepe
Yigit Kirazci as Ahmet Eksi
Hakan Kurtas as Rustem Alaban
Gokce Yanardag as Sevda
Pinar Goktas as Dilek
Sermet Yesil as Bekir
Deniz Karaoglu as Kemal
Orhan Guner as Cemil
External Links
Official Site: http://ayyapim.com/8-gun
Official Site 2: https://www.atv.com.tr/webtv/8-gun/bolum
English Wikipedia:
Imdb:
You Might Also Like
The Deep (Dip)
End (Son)
The 8th Day (8. Gun) Tv Series Gallery
The 8th Day Tv Series Trailer (with English Subtitles)
The 8th Day (8. Gun) Turkish Drama Trailer (Eng Sub)