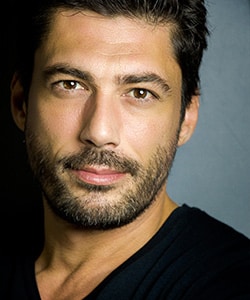 Profile
Name: Pamir Pekin
Birthdate: May 31, 1979
Birthplace: Istanbul, Turkey
Height: 183 cm
Eye Color: Brown
Hair Color: Black
Education: Marmara University Econometrics (Marmara Universitesi Ekonometri Bolumu)
Talent Agency: Black Listt Management
Spouse:
Biography: Pamir Pekin was born in 31 May 1979 in Istanbul. He graduated from Marmara University econometrics. After graduation, he started working as a model and started his career in the fashion world. He also took part in various commercials. When he met Veli Celik, he experienced a milestone in his career and started his acting career when he was 28 years old. Pamir Pekin is interested in boxing, cars and sailing.
Pamir Pekin Tv Series / Movies
2007 – Komiser Nevzat (as Ali)
2008 – Vurgun
2008 – Havalimani: Iyi Ucuslar (as Fatih Karahan)
2009 – Behind Bars (Parmakliklar Ardinda) (as Mert)
2010 – Keskin Bicak (as Kemal)
2011 – The Tulip Age (Lale Devri) (as Cansel)
2012 – Ibreti Ailem
2013 – Dusty Roads (Tozlu Yollar) (as Ferruh)
2013 – Gunce (as Doctor Serdar) (Movie)
2013 – Beautiful and Ugly (Guzel Cirkin) (as Serdar)
2013 – 2014 Magnificent Century (Muhtesem Yuzyil) (as Elkas Mirza)
2014 – 2015 Affairs of the Heart (Gonul Isleri) (as Kemal)
2015 – 2016 Relationship Status: It's Complicated (Iliski Durumu Karisik) (as Murat)
2016 – Smile You (Gulumse Yeter) (as Kemal)
2017 – Life Song (Hayat Sarkisi) (as Hazer Torunbas)
2017 – Tutsak (as Kenan Gurhan)
2018 – Yuvamdaki Dusman (as Murat Cifthanli)
2020 – A Mother's Guilt (Bir Annenin Gunahi) (as Ibrahim)
Awards
Social
Instagram:
Twitter: https://twitter.com/pamirpekin
Facebook:
E-Mail:
Trivia
Body Type:
Skills:
Star Sign:
Blood Type:
Hobbies:
Weight: