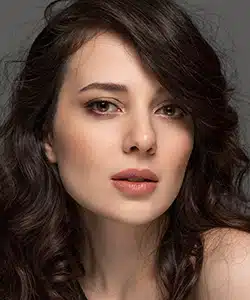 Profile
Name: Tugba Tutug
Birthdate: February 1, 1992
Birthplace: Istanbul, Turkey
Height: 167 cm
Eye Color: Hazel
Hair Color: Brown
Education: Halic University State Conservatory – Theatre (Halic Universitesi Konservatuvar Tiyatro Bolumu)
Talent Agency: Art 11 Management
Spouse:
Biography: Tugba Tutug was born in 1 February 1992 in Istanbul. When she was 10 years old, she started acting through theatre plays. After graduation from Halit University State Conservatory, she made her debut in acting with her role in Turkish series Love of My Life (Hayatimin Aski). She is interested in dance, ice skating and skateboarding.
Tugba Tutug Tv Series / Movies
2016 – Love of My Life (Hayatimin Aski)
2016 – You Name It (Adini Sen Koy) (as Ozge)
2016 – Troublemaker (Bas Belasi) (Movie)
2017 – Heartbeat (Kalp Atisi)
2017 – Two (Iki) (Movie)
2019 – Wounded Birds (Yarali Kuslar) (as Ayse Kilic)
2020 – Maria and Mustafa (as Gonca Yalcinoglu)
Awards
Social
Instagram: Official Instagram Account
Twitter:
Facebook:
E-Mail:
Trivia
Body Type:
Skills:
Star Sign: Aquarius
Blood Type:
Hobbies: Dance, ice skating and skateboarding
Weight: 54 kg
Gallery