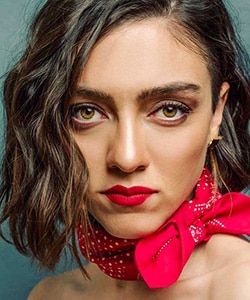 Profile
Name: Merve Dizdar
Birthdate: June 25, 1986
Birthplace: Izmir, Turkey
Height: 1,62 m
Eye Color: Hazel
Hair Color: Black
Education: Canakkale 18 March University Fine Art School – Acting Department (Canakkale Onsekiz Mart Universitesi Guzel Sanatlar Fakultesi Oyunculuk Bolumu), Kadir Has University Masters Degree in Acting (Kadir Has Universitesi Ileri Oyunculuk Programi – Yuksek Lisans)
Talent Agency: Id Iletisim
Spouse: Gurhan Altundasar (m. 2018-2021)
Biography: Merve Dizdar was born in 25 June 1986 in Izmir. After graduating from the university, she started her acting career in theatre with Semaver Kumpanya and later on, Craft Theatre. While taking part in various theatre plays, Merve Dizdar also took part in tv projects and worked as a presenter for children programs named Arkadasim Bidi and 23 Nisan Senligi at Turkish broadcasting channel TRT Cocuk.

Merve Dizdar Tv Series / Movies
2010 – 2011 Daydreaming (Kavak Yelleri) (as Saliha)
2012 – The Path of the Faithful (Bir Ses Boler Geceyi) (as Gulizar / Demet) (Movie)
2012 – World of Humans (Insanlar Alemi)
2013 – Bir Yastikta (as Yeliz Gelin)
2013 – 2014 90s (Doksanlar) (as Selin)
2013 – Mandira Filozofu (Movie)
2014 – Five Brothers (Bes Kardes) (as Fatma)
2014 – Cool School at University (Cilgin Dersane Universitede) (as Astrolog Ozge)
2015 – Orphan Flowers (Kirgin Cicekler) (as Irem)
2015 – 2016 Kertenkele (as Irem)
2016 – Yok Artik 2 (as Buket) (Movie)
2017 – Yuz Yuze (as Yesim)
2017 – Organik Ask Hikayeleri (as Zeynep) (Movie)
2017 – Korfez (as Pinar) (Movie)
2017 – 7Faces – Big Sins (7Yuz – Buyuk Gunahlar) (as Nihal)
2017 – 2018 Wounded Love (Vatanim Sensin) (as Efsun)
2018 – Batlir (as Yudum) (Movie)
2019 – One Love Two Lives (Bir Ask Iki Hayat) (as Sema Yasar) (Movie)
2020 – Miracle Doctor (Mucize Doktor) (as Damla Kiyak)
2020 – War of Sister-in-Laws (Eltilerin Savasi) (as Gizem) (Movie)
2020 – 2022 The Innocents (Masumlar Apartmani) (as Gulben Derenoglu)
2021 – The Red Room (Kirmizi Oda) (as Gulben Derenoglu)
2021 – Have Seen Any Firefly? (Sen Hic Atesbocegi Gordun mu?) (as Izzet) (Movie)
2022 – Ersan Kuneri (as Feride Orhun)
2022 – Kar ve Ayi (as Asli) (Movie)
2022 – Tamirhane (as Aynur) (Movie)
2023 – Magarsus (as Tansu)
2023 – Omer (as Nisa)
2023 – About Dry Grasses (Kuru Otlar Ustune) (as Nuray) (Movie)
Awards
2017 – 17th Direklerarasi Audience Awards (17. Direklerarasi Seyirci Odulleri) – Best Actress (Yutmak) – En Iyi Kucuk Salon Kadin Oyuncu (Yutmak)
2017 – 21st Afife Theatre Awards (21. Afife Tiyatro Odulleri) – Most Successful Actress of the Year (Yutmak) – Yilin En Basarili Kadin Oyuncusu (Yutmak)
2021 – YEKUV Vasfi Riza Zobu Theatre Awards (YEKUV Vasfi Riza Zobu Tiyatro Odulleri) – Talented Young Theater Artist (Yetenekli Genc Tiyatro Sanatcisi)
2021 – Yeditepe University 9th Dilek Awards (Yeditepe Universitesi 9. Dilek Odulleri) – Best Actress in Theatre Plays (The Innocents) – En Iyi Kadin Tiyatro Oyuncusu (Masumlar Apartmani)
2021 – Egitim Bilimleri Awards (Egitim Bilimleri Odulleri) – Best Actress (The Innocents) – En Iyi Kadin Oyuncu (Masumlar Apartmani)
2021 – 9th Ayakli Gazete Tv Stars Awards (9. Ayakli Gazete Tv Yildizlari Odulleri) – Best Actress in Supporting Role (The Innocents) – En Iyi Tv Yardimci Kadin Oyuncu (Masumlar Apartmani)
2021 – 47th Golden Butterfly Awards (47. Altin Kelebek Odulleri) – Best Actress (The Innocents) – En Iyi Kadin Oyuncu (Masumlar Apartmani)
2022 – 59th Antalya Golden Orange Film Festival (59. Antalya Altin Portakal Film Festivali) – Best Actress (Kar ve Ayi) – En Iyi Kadin Oyuncu (Kar ve Ayi)
2022 – 10th Bogazici Film Festival (10. Bogazici Film Festivali) – Best Actress (Kar ve Ayi) – En Iyi Kadin Oyuncu (Kar ve Ayi)
2022 – GQ Turkiye Men of The Year – Woman of the Year
2023 – 76th 2023 Cannes Film Festival (76. Cannes Film Festivali) – Best Actress (About Dry Grasses) – En Iyi Kadin Oyuncu (Kuru Otlar Ustune)
Theatre Plays
2010 – Cok Yasa Dunya
2010 – 2011 Bir Tutam Hayat
2011 – 2012 Titus Andronicus
2012 – Bir Kursun Deligine Kac Insan Sigar
2012 – Bir Infazin Portresi
2015 – Kuslar
2016 – Guclu
2017 – Yutmak (as Samantha)
2019 – Alice Muzikali (as Cat)
2021 – On Ikinci Gece (as Olivia)
Social
Instagram: @mervedizdar
Twitter:
Facebook:
E-Mail:
Trivia
Body Type:
Skills:
Star Sign:
Blood Type:
Hobbies:
Weight:
Merve Dizdar Gallery