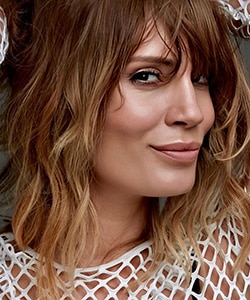 Profile
Name: Ayca Varlier
Birthdate: June 22, 1977
Birthplace: Ankara, Turkey
Height: 174 cm
Eye Color: Brown
Hair Color: Blonde
Education: Hartt School of Music – Musical Theatre; Master's degree in theatre from a joint program of American Repertory Theater at Harvard University and Moscow Art Theatre School
Talent Agency: Wamp
Spouse:
Biography: Ayca Varlier is a Turkish actress and singer. She was born in 22 June 1977 in Ankara. Ayca Varlier went to the US in 1993 when she was 16 years old to complete high school education. She studied musical theatre at Hartt School of Music, USA. After then, did her master's degree in theatre and studied at Moskow Art Theatre School for 5 months and 2 years at American Repertory Theater at Harvard University. Ayca Varlier took part in various tv projects and musical events after 2005. While she does acting, she also continues her music career through singing and composing songs. She became a soloist at Istanbul Senfoni Orkestrasi, TRT Caz Orkestrasi, D-Marin Turgutreis Uluslararasi Muzik Festivali'nde Izmir Senfoni Orkestrasi, Altin Portakal Film Festivali'nde Antalya Senfoni Orkestrasi, Bursa Senfoni Orkestrasi and Ephesus Brass Orkestrasi. Ayca Varlier was awarded as best theatre actor with her role as Roxy at theatre play named Leyla's House.
Ayca Varlier Tv Series / Movies
2004 – Istanbul Tales (Anlat Istanbul) (Movie)
2004 – My Wife and My Mom (Karim ve Annem) (as Buket)
2005 – Silver (Gumus) (as Pinar)
2005 – He is now Prisoner (O Simdi Mahkum) (as Evrim) (Movie)
2007 – Havva Durumu (as Burcu) (Movie)
2008 – Valley of Wolves: Ambush (Kurtlar Vadisi Pusu) (as Nese Turkcan)
2008 – Lemon Tree (Limon Agaci) (as Merve)
2008 – Mordkommission Istanbul (as Ayla Oker)
2008 – 2009 Autumn (Son Bahar) (as Sabiha Yilmaz)
2009 – The Large Family (Genis Aile) (as Hayat)
2010 – 2012 Behzat C. (Behzat C. Bir Ankara Polisiyesi) (as Bahar)
2012 – Kalbim 4 Mevsim (as Buket)
2012 – Stone School (Tas Mektep) (as Guzide) (Movie)
2013 – Gunce (as Melike) (Movie)
2014 – First Love (Olur Olur) (as Azra) (Movie)
2014 – Olive Hill (Zeytin Tepesi) (as Yildiz Gokcener)
2015 – Blue Night (Mavi Gece) (as Emel) (Movie)
2016 – 2017 Life Song (Hayat Sarkisi) (as Mahsa)
2016 – The Return (Kehribar) (as Leyla)
2017 – 2020 Let's Go (Kalk Gidelim) (as Nurcan Dal)
Awards
Social
Instagram: https://www.instagram.com/aycavarlier/
Twitter: https://twitter.com/Aycavarlier
Facebook:
E-Mail:
Music Album: https://music.apple.com/tr/album/elif/601390934
Trivia
Body Type:
Skills:
Star Sign: Crab
Blood Type:
Hobbies:
Weight: 56 kg
Ayca Varlier Gallery