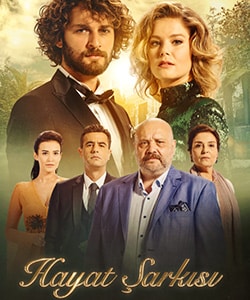 Details
Original Title: Hayat Sarkisi
English Title: Life Song
Also Known As: Flames of Desire, Hülya
Genre: Drama, Romance, Family
Episodes: 57
Broadcast Network: Kanal D
Broadcast Period: February 09, 2016 – June 26, 2017
Production Company: Most Production
Director: Cem Karci
Original Screen Writer: Jung Ha Yun
Screen Adapter: Mahinur Ergun
Filming Locations: Istanbul, Turkey
Synopsis
Bayram (Ahmet Mumtaz Taylan) comes to his hometown in order to make a peace with his close friend Salih. They agree to engage their children Melek and Kerim when they grow up to the age of marriage.
Years later, Kerim (Birkan Sokullu) graduates and gets his master's degree in environmental studies. Even though he wants to live in Germany and works as an instructor at the university, he cannot persuade his father.
Kerim has nothing to do but to return to Istanbul because his father wants to keep his promise to his close friend.
Eventually, Kerim decides to get engaged to Melek (Ecem Ozkaya) and goes to his hometown in order to ask for Melek's hand in marriage.

Meanwhile, Melek's younger sister Hulya (Burcu Biricik) activates her plans that no one has taken into account before. She is a passionate girl and desires to get married to Kerim since she was a kid.
Therefore, Hulya can do the impossible to be with the person that she loves.
With the arrival of Kerim, Hulya makes a plan that would dishonor her sister. When everyone becomes skeptical about Melek's chastity, Kerim breaks his word and gets engaged to Hulya instead of Melek.
Soon after, Kerim and Hulya get married. Immediately after they get married, Kerim leaves Hulya behind and goes to Germany in order to continue his ordinary life there. Due to his father, he makes a compulsory marriage but he does not want to have a real marriage with the woman that he has no feeling for.
However, Hulya is not an easygoing person who can accept whatever is offered to her. She goes to Germany as well and turns Kerim's life upside-down.
In flames of desire (hayat sarkisi) tv series story, you will explore the life a passionate girl who does everything in order to reach her goal. Will Hulya manage to have a real marriage with Kerim? What will Kerim do when he learns every evil thing that Hulya has done before?
Flames of Desire (Hayat Sarkisi) Tv Series Cast
Burcu Biricik as Hulya
Birkan Sokullu as Kerim
Tayanc Ayaydin as Huseyin
Ecem Ozkaya as Melek
Ahmet Mumtaz Taylan as Bayram
Seray Gozler as Suheyla
Pelin Oztekin as Zeynep
Almila Bagriacik as Filiz
Olgun Toker as Mahir
Filiz Ahmet as Nurgul
External Links
Official Site: https://www.kanald.com.tr/hayat-sarkisi
English Wikipedia:
Imdb:
You Might Also Like
Forbidden Love (Aski Memnu)
Flames of Desire (Hayat Sarkisi) Tv Series Trailer (with English Subtitle)
Flames of Desire (Hayat Sarkisi) Tv Series Trailer (Eng Sub)