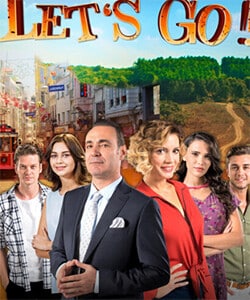 Details
Original Title: Kalk Gidelim
English Title: Let's Go
Also Known As:
Genre: Comedy, Family
Episodes: 116+
Broadcast Network: TRT 1
Broadcast Period: November 18, 2017
Production Company: Staff Film
Director: Hatice Memis, Ozgur Pak, Erkan Nurhan
Screen Writer: Baykut Badem, Hazan Toma, Oktay Berber, Cuneyt Inay
Filming Locations: Yesilyurt/Mugla, Turkey
Synopsis
Mustafa Ali (Erkan Sever) has a wealthy life in Istanbul. He has been living in Istanbul apart from his parents who live in a small village. After graduating from university, Mustafa Ali refuses to go back to his village, leaves his fiancé in the village and starts a new life in the great city Istanbul. He gets arried to high-class society girl Nurcan (Ayca Varlier) and stops going to his village after then.
It has been 15 years since Mustafa Ali went to his village the last time. After then, he always finds excuses to visit his parents.

Mustafa Ali works so hard to have a wealthy life, he owns a factory and hires many people. His wife and his children enjoy the luxurious life.
However, this perfect life comes to end when Mustafa Ali makes wrong decisions and goes bankrupt. He has no choice to leave everything behind and return to his village in order to start over from scratch.
Mustafa Ali cannot explain to his family that he has gone bankrupt. Therefore, he just says that he has made a travel plan in a famous holiday resort. Without explaining what has actually happened, he takes his beautiful wife Nurcan, his playboy son Canberk (Onur Seyit Yaran), and his naive girl Duru (Ece Aydemir) and goes to his village.
When Mustafa Ali and his family arrive at the village, everybody in the village is surprised. His parents and his grandmother become so happy while his brother Seyfettin (Ufuk Ozkan) becomes too confused.
In the absence of Mustafa Ali, Seyfettin has been working together with his father and for this reason; he thinks that his brother does not deserve any inheritance. He believes that Mustafa Ali does not deserve the love and affection of his parents.
In order not to feel humiliated, Mustafa Ali also hides his bankruptcy from his parents. Everybody assumes that Mustafa Ali and his family would leave the village in a very short time. However, nothing happens as expected.
Let's Go (Kalk Gidelim) tv series story is about a wealthy man who moves into his village after going bankrupt. What will happen when Mustafa Ali's family learn about bankrupty? Will Mustafa Ali manage to win the affection of his parents? Will Nurcan get used to village life after enjoying the luxurious life? Will Duru forget about her boyfriend in Istanbul or try a long-distance relationship? Will Canberk fall in love with a village girl Badegul? Will Meryem forgive her ex-fiance Mustafa Ali and live in peace after his arrival to the village?
Let's Go (Kalk Gidelim) Tv Series Cast
Ufuk Ozkan as Seyfettin
Erkan Sever as Mustafa Ali
Ayca Varlier as Nurcan
Mehtap Bayri as Sevda
Kerem Kupaci as Halil
Fusun Kostak as Nuriye
Yildiz Kultur as Mumine
Beyazit Gulercan as Haci Huseyin
Ilayda Aydin as Badegul
Onur Seyit Yaran as Canberk
Ece Aydemir as Duru
Andrey Stan as Veli
Alican Okumus as Halim
Can Kiran as Samim
Hayrettin Karaoguz as Ercan
External Links
Official Site: https://www.trt1.com.tr/diziler/kalk-gidelim
English Wikipedia:
Imdb:
You Might Also Like
Beautiful Village (Guzel Koylu)
Let's Go (Kalk Gidelim) Tv Series Gallery
Let's Go (Kalk Gidelim) Tv Series Trailer (with English Subtitle)
Let's Go (Kalk Gidelim) Tv Series Trailer (Eng Sub)