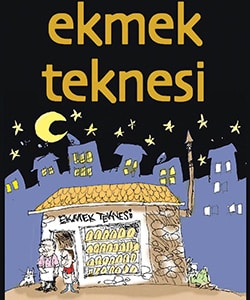 Details
Original Title: Ekmek Teknesi
English Title: Bread and Butter
Also Known As: Boat of Bread
Genre: Family, Comedy
Episodes: 106
Broadcast Network: ATV (2002-2004), Show Tv (2004-2005)
Broadcast Period: November 16, 2002 – June 13, 2005
Production Company: Sinegraf (2002-2004), Pana Film (2004-2005)
Director: Metin Gunay
Screen Writer: Raci Sasmaz, Mehmet Turgut, Hasan Kacan, Elif Aktug, Bahadir Ozdener, Omer Lutfi Mete
Filming Locations: Istanbul, Turkey
Synopsis
Nusret (Savas Dincel) is a baker who owns a bakery shop named as Boat of Bread (Ekmek Teknesi) in a small neighborhood. He gets up too early each day to cook bread. The locals in the neighborhood have been buying bread from this bakery shop for 100 years.
Nusret lives happily with her wife and five daughters. Each girl has her own problem.
Mehbare (Mehtap Bayri) is the biggest daughter who wants to get married soon. She is good at domestic responsibilities and wants to have her own family as soon as possible.

Jale (Esin Civangil) is the second largest daughter who cares about her beauty. She has a boyfriend named Korkut (Cem Kilic). Jale and Korkut love each other very much but they fight like cats and dogs all the time.
Sonay (Melike Guner) is very understanding and mature. She is fond of books and cares about her father.
Songul (Ekin Turkmen) is interested in television, computer, and phone.
The youngest daughter Sonnur (Arzu Os) is very money-minded.
Everbody in the neighborhood respects for Nusret and cares about his advice. He is not only the father of five daughters but also the father of the neighborhood. Nusret guides the local community with his humanist approach through recalling and resurrecting lost moral values.
Each craftmen in the neighborhood have their own tragicomic story but their only common point is the thing that they live together.
Bread and Butter (Ekmek Teknesi) tv series story is about baker Nusret, his wife, his five daughters and brother-in-law. Will Nusret keep his family together despite all the problems and obstacles? Will Mehbare manage to find her prince-charming and get married soon? Will Jale start to get along with his boyfriend?
Bread and Butter (Ekmek Teknesi) Tv Series Cast
Savas Dincel

as Nusret

Sermin Hurmeric

as Ayhan

Kadir Copdemir

as Kirli

Peker Acikalin

as Cengiz

Mehtap Bayri

as Mehbare

Arzu Os

as Sonnur

Melike Guner

as Sonay

Ekin Turkmen

as Songul

Esin Civangil

as Jale

Safak Sezer

as Bahtiyar

Binnaz Ergin

as Nezaket

Eray Demirkol

as Naim

Yasar Uzer

as Ruhi

Cem Kilic

as Korkut

Kerim Yagci

as Bican

Ahmet Yenilmez

as Celal

Mehmet Usta

as Olu

Semsettin Terlan

as Kil

Baykut Badem

as Suha

Binnur Serbetcioglu

as Selale

Enis Danabas

as Tolga

Acelya Akkoyun

as Suzan

Hasan Kacan

as Heredot Cevdet

Deniz Salman

as Taarruz Kecisi

Mazhar Alanson

as Medet

Selin Dilmen

as Necibe
External Links
Official Site:
English Wikipedia:
Imdb:
Youtube Channel: Official Youtube Channel
You Might Also Like
What Happens to My Family (Baba Candir)
My Dear Family (Canim Ailem)
Bread and Butter (Ekmek Teknesi) Tv Series Gallery