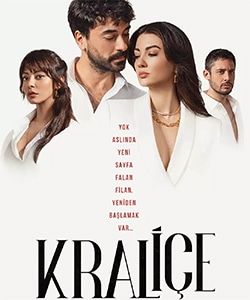 Details
Original Title: Kralice
English Title: Queen
Also Known As: Queen Sugar
Genre: Drama, Romance
Episodes: 11 (each episode is 130-140 minutes)
Broadcast Network: Kanal D
Broadcast Period: April 6, 2023 – June 7, 2023
Production Company: Mednova
Director: Cevdet Mercan, Serhan Sahin
Screen Writer: Serdar Soydan, Kerem Bozok, Ekin Akcay, Nil Gulec Unsal, Ozlem Inci Hekimoglu
Filming Locations: Istanbul, Turkiye
Synopsis
Deniz (Burcu Ozberk) and Ates (Gokhan Alkan) are a perfect couple. Both of them are successful in their professions, love each other so much, and have a happy marriage together with their daughter.
Ates is one of the most popular basketball players in the country while Deniz is a successful businesswoman. Their perfect life turns upside down all of a sudden.

Deniz cannot know what to do when the name of her husband is involved in a big scandal. The country starts to talk about the appearance of Ates with an escort girl. Ates immediately falsifies this news and manages to persuade his wife.
The next day, Deniz goes to the basketball match to support her husband and shows that she trusts him. However, she finds out a video of her husband together with the escort girl on the internet. She cannot stay calm and goes down to the basketball field in the middle of the match and attacks her husband.
While she is dealing with this scandal, Deniz also learns that her father passes away due to a heart attack. Upon learning of her father's death, Deniz decides to go to her father's farmhouse in a coastal town very close to Istanbul.
Suddenly, Deniz loses everything. Her marriage is shaken and she loses her father. She takes her daughter and leaves her wealthy life behind and goes to the farmhouse in order to support her sister Zeynep (Selin Sekerci) and her brother Ali (Ozgun Karaman).
Deniz also discovers that her father has left a huge debt behind. Deniz and her siblings Zeynep and Ali come together years later, collaborate, and start their lives again.
Meanwhile, Ates starts to have problems in his professional life due to the scandal. His reputation is damaged a lot. He starts to prove his innocence and win his wife's trust again. He is determined not to give up his marriage. He does his best to get his perfect life back.
On the other hand, Deniz cannot forgive her husband's affair. She is determined to get divorced, start a new life together with her daughter, and save the farmhouse inherited by her father.
Queen (Kralice) tv series story is about the life of Deniz whose life turns upside down after her husband's betrayal. Will Deniz manage to get divorced? Will Deniz, Zeynep, and Ali manage to pay all the debts and save the farmhouse inherited by their father? Will Ates manage to prove his innocence and persuade his wife? Will Ates and Deniz forget about the past and start their life again?
Queen (Kralice) Tv Series Cast
Gokhan Alkan as Ates Akca
Burcu Ozberk as Deniz Gencer Akca
Selin Sekerci as Zeynep Gencer
Ozgun Karaman as Ali Gencer
Serhat Paril as Mahir
Ayse Akin as Narin
Afra Karagoz as Duygu
Enes Kocak as Murat
Ecenaz Ucer as Hande
Ege Semih Erken as Efekan
Melis Ozcimen as Sahsene
Mert Tezisci as Samet
Caner Nalbantoglu as Burak
Merve Honca as Simay
Ferhat Yilmaz as Club President
Gulsehri Mina Kekec as Ruya Akca
Umut Kaplica as Aslan Gencer
Cihat Tamer as Galip Gencer
Ozgur Cem Tugluk as Engin
Selin Isik as Ipek
Bulent Duzgunoglu as Ziya
Sumeyra Koc as Gaye
Characters:
Ates is a succesful basketball player. He is attractive and the target of many young women. Even though he was born into a poor family, he worked so hard to reach his goals. Ates becomes so successful with the support of Deniz. He has a wealthy life together with his lovely life Deniz. He seems to have a perfect life, perfect husband, and perfect father.
Deniz is the wife of Ates. She is a perfect wife with beauty, strong character, and an innocent soul. She does not show her wounds and weakness. She is like a complete problem solver. She gets a bachelor's degree in business administration and becomes the architect behind his husband's success. She is also a successful businesswoman and owns an advertising agency. Due to her father and mother's past, her heart has not hardened despite her childhood traumas. She has been raised together with her step-siblings.
Zeynep is Deniz's step-sister. She is so emotional and caring. She works as a healer in the village and makes various herbal medicines. She looks for her own healing by offering healing to others by preparing essential oils and herbal mixtures. Zeynep raises her nephew while her brother is staying in prison and takes care of her family. Now, she has a relationship with a married man and feels guilt each and every day.
External Links
Official Site: Broadcast Network
English Wikipedia:
Imdb:
Social
Instagram: Instagram – kralicedizitv
Twitter: X – @kralicedizitv
Facebook: Facebook – kralicedizitv
Youtube Channel: Youtube – @KraliceDiziResmi
You Might Also Like
A Woman Scorned (Sadakatsiz)
Queen (Kralice) Turkish Series Trailer (with English Subtitle)
Kraliçe İlk Tanıtım | Yakında Kanal D'de!