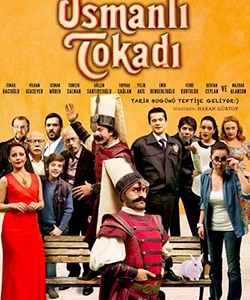 Details
Original Title: Osmanli Tokadi
English Title: Ottoman Slap
Also Known As:
Genre: Comedy, Romance, History, Fantasy
Episodes: 37
Broadcast Network: TRT 1
Broadcast Period: April 13, 2013 – April 12, 2014
Production Company: Duka Film
Director: Mustafa Sevki Dogan
Screen Writer: Necati Sahin
Filming Locations: Istanbul, Turkey
Synopsis
Dogan (Ugur Cavusoglu) and Sahin (Alper Kul) are ottoman soldiers and are taking part in the Ottoman Constantinople conquest during 1453.
Surprisingly, they are transported 560 years into the future to present day Istanbul. After they time travel to the future, they encounter familiar faces, and modern-day devices.
These two ottoman soldiers try to get used to living in modern Istanbul while they are trying to understand the reason for their time travelling. They realize that Fatih (Ismail Hacioglu) who is the sultan of the Ottoman Empire in 1453 is a police officer in 2013.

At the same time, they see that Aksemsettin (Mazhar Alanson) who is the royal teacher and religious sheik in 1453 is a history teacher in 2013. They believe that it is their duty to protect Fatih in order to return to Ottomon period.
For this reason, these two men dressed in Ottoman era garments decide to stick with Fatih.
In ottoman slap (osmanli tokadi) tv series story, you will see Ottoman soldiers who time travel to the future. Will Dogan and Sahin get used to modern life in Istanbul? Will Dogan and Sahin manage to protect Fatih, the sultan of the Ottomon Empire?
Ottoman Slap (Osmanli Tokadi) Tv Series Cast
Ugur Cavusoglu as Dogan
Alper Kul as Sahin
Ismail Hacioglu as Fatih Sultan Mehmed
Emir Benderlioglu as Ates / Vlad Tepes
Vildan Atasever as Istanbul / Kostantina
Toprak Saglam as Nurseda
Gulcin Santircioglu as Asuman
Mazhar Alanson as Aksemsettin
Pelin Akil as Irmak Guzel
Cemal Hunal as Mogol
Tuncer Salman as Gazanfer
Ferdi Kurtuldu as Demir
Bertan Ceylan as Ayyar
Osman Wober as Alexandros / Iskender Demiroglu
External Links
Imdb:
Wikipedia:
Official Site:
You Might Also Like
Leyla and Mecnun