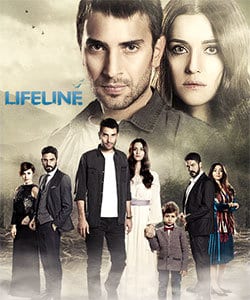 Details
Original Title: Sen Anlat Karadeniz
English Title: Lifeline
Also Known As: You Tell, The Black Sea
Genre: Melodrama, Romance
Episodes: 8+
Broadcast Network: ATV
Broadcast Period: January 24, 2018 –
Production Company: Sinegraf
Director: Osman Sinav, Emre Kabakusak
Screen Writer: Ayse Ferda Eryilmaz, Nehir Erdem
Synopsis
Nefes (Irem Helvacioglu) was forced to become the wife of Vedat Sayar (Mehmet Ali Nuroglu) when she was just 16 years old. She has been captived for 8 years and never allowed to go outside the house. Her only happiness in this life becomes her little son Yigit.
Nefes has been exposed to domestic violence for 8 years. She never accepts to become the real wife of Vedat and tries to escape from this captivity whenever possible. She aims to take his son and run away from Vedat. However, she fails all the time.
Nefes' life changes dramatically when Vedat decides to do business with Kaleli family from the Black Sea region. Kaleli family lives in Trabzon (a city in the Black Sea region) and engages in mining sand. It is a conservative ordinary family where the biggest son Mustafa (Sinan Tuzcu) manages the family business while the second biggest son Tahir (Ulas Tuna Astepe) becomes the captain of their sand mining ships.

Tahir is a rebellious, brave, fearless, free spirited and a little bit crazy young man who always fights against unfairness.
Vedat invites Kaleli family to his house in order to develop a close relationship with his business partners. During the dinner, Tahir notices the bruises on Nefes' hands and understands that something is wrong in this marriage. He tries to understand the reason for these bruises but could not learn anything from Nefes.
When Vedat notices the conservation between Tahir and Nefes, he has a jealousy attack and locks his wife and his son to the bedroom in the upstairs. He finds an excuse in order not to cause his guests to suspect. However, Tahir hardly contains himself and starts to regret to do business with Vedat.
Meanwhile, Nefes takes the opportunity to escape from the house when all security guards are sent away. She takes his son and hides inside the car of Kaleli family. After the dinner, Kaleli family returns to Trabzon without knowing that they are hosting Nefes and her son.
Upon arrival to Trabzon, Tahir finds out Nefes at the luggage compartment and continues to hide her until his family goes to the house. He decides to save her from Vedat's cruelty and tries to do his best not to let her go despite his family's objection.
In lifeline (sen anlat karadeniz) tv series story, you will watch the story of Nefes who tries to escape from her brutal husband and wants to find peace in her life. Will Tahir manage to save Nefes? Will Nefes eventually find peace with her little son? Will Vedat accept that Nefes would never love him? Will Vedat bear the penalty of his crime?
Lifeline (Sen Anlat Karadeniz) Cast
Ulas Tuna Astepe as Tahir Kaleli
Irem Helvacioglu as Nefes
Mehmet Ali Nuroglu as Vedat
Sinan Tuzcu as Mustafa Kaleli
Gozde Kansu as Eysan
Oyku Gurman as Asiye Kaleli
External Links
Official Site: https://www.atv.com.tr/diziler/sen-anlat-karadeniz/hakkinda
English Wikipedia:
Imdb: http://www.imdb.com/title/tt7932896/
You Might Also Like
What is Fatmagul's Fault? (Fatmagulun Sucu Ne?)
Endless Love (Kara Sevda)
Social
Instagram: https://www.instagram.com/senanlatkaradeniz/
Twitter: https://twitter.com/SenAnlatKDeniz
Facebook: https://www.facebook.com/senanlatkaradeniz/
Gallery
Lifeline (Sen Anlat Karadeniz) Tv Series Trailer (Eng Sub)
Lifeline (Sen Anlat Karadeniz) Tv Series Trailer (Eng Sub)