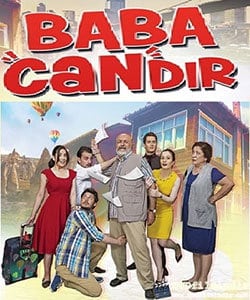 Details:
Original Title: Baba Candir
English Title: Father is a Life
Also Known As: What Happens To My Family
Genre: Comedy, Family
Episodes: 66
Broadcast Network: Trt 1
Broadcast Period: August 2, 2015 – May 18, 2017
Production Company: MF Yapim
Director: Yusuf Pirhasan
Screen Writer: original screen writer: Kang Eunkyung, screen adapter: Tayfun Guneyer
Filming Locations: Istanbul, Nevsehir, Turkiye
Synopsis
Salih (Settar Tanriogen) is an old man who sells traditional Turkish food like phyllo dough and Turkish type ravioli in his small shop located next to his house. His wife passed away when their children were so young and Salih has become both the father and mother since then. He has three children: Ece (Berna Koralturk), Egemen (Tolga Pancaroglu), and Emrecan (Ozgun Karaman).
Ece is a beautiful girl who is older than 30 years old. She is workaholic and works at a big company as an assistant director.

Egemen is a cold-hearted young man who is a successful doctor.
Emrecan is a handsome young man who is a real trouble-maker. He is unemployed and could not find a job no matter how hard he tries.
One day, the life of this family changes completely. A young and easy-going girl, Ceylan (Melis Tuzunguc), comes from Cappadocia to Istanbul in order to find Emrecan. Years before, when she was a kid, she saved Emrecan from drowning and Emrecan promised to get married to Ceylan in return. Assuming that Emrecan would keep his promise, Ceylan leaves everything behind and comes to Istanbul.
After Ceylan's arrival, not only the life of Emrecan but also the life of other family members changes. Ceylan starts to live together with this family and tries to adjust her new life in Istanbul. Meanwhile, Emrecan discovers that it is his close friend Ruzgar (Ertunc Tuncer) who used his name of Emrecan and promised to get married to Ceylan.
In What Happens To My Family (baba candir – father is a life) tv series story, you will explore an ordinary family with a self-sacrificing father and his selfish three children. It also talks about the conflicts between old and young generations. Will Ceylan fulfill her childhood dream of being married to Emrecan? Will Ece manage to forget about her past and find love? Will Emrecan find a new job and start to earn his own money? Will Egemen start to support his family as a gratitude for his father?
What Happens To My Family (Baba Candir) Tv Series Cast
Uraz Kaygilaroglu as Haluk Guney
Berna Koralturk as Ece Celik Guney
Ozgun Karaman as Emrecan Celik
Melis Tuzunguc as Ceylan Celik
Ertunc Tuncer as Ruzgar
Settar Tanriogen as Salih Celik
Tolga Pancaroglu as Egemen Celik
Tulay Bursa as Nermin Celik
Dila Akbas Bayrak as Asli Tasci Celik
Firat Albayram as Levent Teoman
Cansu Gultekin as Damla
Cengiz Tangor as Adnan Tasci
Mehtap Altunok as Mujde Tasci
Pinar Bibin as Sebnem
Ayfer Tokatli as Busra
Mehmet Ulay as Hasan Guney
Selda Ozbak as Muge
Dilara Gonder as Aysegul Diri
Ali Bahadir Bahar as Irfan
External Links
Official Site: Broadcast Network
English Wikipedia:
Imdb: Imdb – Baba Candir
You Might Also Like
Between You and Me (Aramizda Kalsin)
Dear Family (Canim Ailem)
What Happens To My Family (Baba Candir) Tv Series Trailer (with English Subtitle)
What Happens To My Family (Baba Candir - Father is a Life) Tv Series Trailer (Eng Sub)