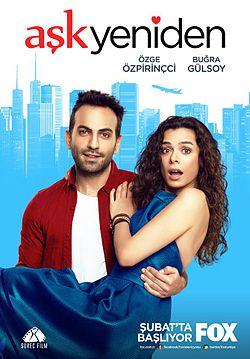 Details
Original Title:
Ask Yeniden
English Title:
Love Once Again
Also Known As:
Genre:
Romance
,
Comedy
Episodes:
59
Broadcast Network:
Fox Tv
Broadcast Period:
February 10, 2015 – June 14, 2016
Production Company:
Surec Film
Director:
Ersoy Guler
Screen Writer:
Ersoy Guler
,
Ramazan Demirli
,
Gulbike Sonay Ute Ayik
,
Eda Tezcan
Synopsis
Zeynep (Ozge Ozpirincci) is a young girl who lives happily with his father and aunt together. When she finds her first love, she decides to follow it no matter what. She leaves her family behind and goes to the USA with her boyfriend without informing her family. Everything goes well at first but her life turns upside down when she learns her pregnancy. Her boyfriend does not want to be a father and leaves Zeynep alone. Zeynep decides to have the baby and thinks that she can manage to handle all hardships in her life. When she gives birth, she realizes how hard it is to be a single mom who tries to raise a baby and works at the same time. She is desperate and she can do nothing but turn back to Turkey.

Fatih (Bugra Gulsoy), on the other hand, is a young man who comes from a well-known Turkish family. He is not happy with his life because he does not feel that he is free. He is engaged with a girl whom he does not love just because his family wants him to do that. He decides to go to the USA for graduate study in order to have his freedom back. He leaves everything behind and starts to enjoy his freedom far from his fiancée and his family. In the USA, Fatih finds his first love and wants to get married with her no matter what. He proposes his girlfriend but unfortunately, his girlfriend does not want a marriage and leaves Fatih alone. He is desperate and he can do nothing but turn back to Turkey.
These two young and desperate people from different backgrounds come across to each other at the same flight to Istanbul. They make a marriage agreement on the flight. Fatih wants Zeynep to pretend his wife because his family wants him to get married to Irem (Didem Soydan). He wants his freedom back while pretending that he is married. Zeynep, on the other hand, needs some time to explain everything to her family. She accepts Fatih's offer so that she can explain her baby to her family at the most appropriate time.
In love again (ask yeniden – love once again) tv series story, you will explore the life of Fatih and Zeynep who pretend to be a married couple. Will Fatih and Zeynep start to fall in love with each other eventually? Will this fake marriage turn into a real life love? What will happen when families learn the truth about their children?
In Love Again Tv Series Cast
Bugra Gulsoy as Fatih Sekercizade
Ozge Ozpirincci as Zeynep Taskin
Didem Soydan as Irem
Nilay Deniz as Selin Sekercizade
Can Sipahi as Orhan Gunay
Tamer Levent as Sevket Taskin
Tulin Oral as Gulsum Sekercizade
Lale Basar as Mukaddes Sekercizade
Mert Ocal as Ertan
Ilkem Ulugun as Fadik
Emre Erkan as Mete
Sema Kecik as Meryem Ozer
Orhan Alkaya as Fehmi Sekercizade
External Links
Imdb:
Wikipedia:
Official Site: https://www.fox.com.tr/Ask-Yeniden/
You Might Also Like:
Game of Love (Ask Oyunu)
Accidental Husband (Zoraki Koca)
It's Complicated (Iliski Durumu Karisik)