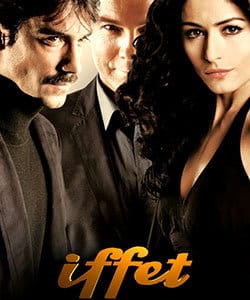 Details
Original Title: Iffet
English Title: Uprightness
Also Known As:
Genre: Romance, Drama
Episodes: 40
Broadcast Network: Star TV
Broadcast Period: September 17, 2011 – September 24, 2012
Production Company: Goldfilm
Director: Faruk Teber
Screen Writer: Can Sinan, Mujgan Kayserli, Zulkuf Yucel
Filming Locations: Istanbul, Turkey
Synopsis
Iffet (Deniz Cakir) is a beautiful and innocent girl who lives in a poor neighborhood with her father Ahmet (Mehmet Celik) and her sister. Her father is so mean and tough towards Iffet. He does not want her to go out, speak with boys, wear chic clothes and so on. Despite these strict rules within the family, Iffet secretly meets her boy friend Cemil (Ibrahim Celikkol).
Cemil is a young and handsome taxi driver who loves Iffet so much and wants to be together with her all the time. One day, Iffet attends to a wedding ceremony in her neighborhood. Almost everyone in the same nighborhood including Cemil come to this wedding. While Iffet's father is hanging out with his friends, Iffet and Cemil secretly leave the ceremony and go inside the forest in order to speak for a while. There, Cemil looses his control and rape Iffet.

This tragedy not only transforms the life of Iffet but also that of other people. After this tragedy, Iffet tries to forgive Cemil and wants to get married to him as soon as possible. However, nothing happens as expected. Cemil cruelly leaves Iffet and gets married to another woman just for money. Meanwhile, Iffet's father learns her daughter's relationship with Cemil and sends her away. Now, Iffet only wants one thing in this world: revenge.
In iffet tv series story which is the adaptation of Mujde Ar's film, you will explore a dramatic story of a beautiful and innocent girl and her revenge. Will Iffet manage to forget her past and forgive Cemil? How will İffet's life change when she becomes alone?
Iffet Tv Series Cast
Deniz Cakir as Iffet
Ibrahim Celikkol as Cemil
Mehmet Celik as Ahmet
Zuhal Olcay as Dilek
Melike Guner as Betul
Mahir Gunsiray as Ali Ihsan
Can Gurzap as Enes Tarikoglu
Birsen Durulu as Asuman
Selim Erdogan as Erhan
Serkan Genc as Feyyaz
Gulden Guney as Serpil
Esra Isguzar as Nimet
Israfil Kose as Ersin
Selen Ucer as Gulin
Bulent Alkis as Abdulaziz
Iffet Turkish Drama Trailer (with English Subtitle)
Uprightness (iffet) tv series trailer (Eng Sub)
External Links
Official Site: https://www.startv.com.tr/video/arsiv/dizi/iffet
English Wikipedia:
Imdb:
You Might Also Like
What is Fatmagul's Fault (Fatmagul'un Sucu Ne)
The Lady's Farm (Hanimin Ciftligi)