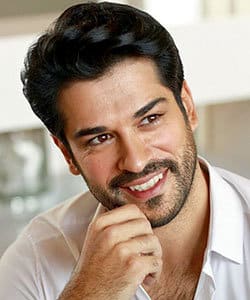 Profile
Name:
Burak Ozcivit
Birthdate:
December 24, 1984
Birthplace:
Istanbul, Turkey
Height:
184 cm
Eye Color:
Brown
Hair Color:
Black
Education:
Kazim Ismen High School (Kazim Ismen Lisesi), Marmara University Fine Arts School-Photography (Marmara Universitesi Fotografcilik Bolumu)
Talent Agency:
Spouse:
Fahriye Evcen (m. 2017-present)
Children:
Karan Ozcivit (b. 2019)
Biography:
Burak Ozcivit was born in December 24th, 1984, he is actor and model. He is from Gaziantep (a city in the Souteastern part of Turkey). He became the "Promising Model" in 2003 Best Model of Turkey contest. After than he participated to the contest again in 2005 and became "Best Model of Turkey". He became the second ranking at the Best Model of the World. He worked at different fashion shows including Faruk Sarac, Abbate, Tween and Network.
Burak Ozcivit Tv Series / Movies
2006 – Minus 18 (Eksi 18) (as Murat)
2007 – 2018 Accidental Husband (Zoraki Koca) (as Omer Teksoy)
2007 – Haunted (Musallat) (as Suat) (Movie)
2008 – The House of Father (Baba Ocagi) (as Guven Yorukoglu)
2010 – Betrayal (Ihanet) (as Emir)
2010 – 2011 Little Secrets (Kucuk Sirlar) (as Cetin)
2011 – 2013 Magnificent Century (Muhtesem Yuzyil) (as Malkocoglu Bali Bey)
2013 – 2014 LoveBird (Calikusu) (as Kamran)
2014 – Love Resembles You (Ask Sana Benzer) (as Ali) (Movie)
2015 – Guvercin Ucuverdi (Movie)
2015 – 2017 Endless Love (Kara Sevda) (as Kemal)
2015 – My Borther (Kardesim Benim) (as Hakan) (Movie)
2017 – My Brother 2 (Kardesim Benim 2) (as Hakan) (Movie)
2018 – Life Sacrifice (Can Feda) (as Firat / Alparslan) (Movie)
2019 – Establishment Osman (Kurulus Osman) (as Osman)
Awards
Social
Instagram: https://www.instagram.com/burakozcivit/
Twitter: https://twitter.com/burakozcivit
Facebook: https://www.facebook.com/burakozcivit/
E-Mail: [email protected]
Trivia
Body Type:
Skills:
Star Sign:
Blood Type:
Hobbies:
Burak Ozcivit Gallery
Magazine Cover
Burak Ozcivit & Inna
Burak Ozcivit & Inna #BurakOzcivit
Burak Ozcivit on the beach
Burak Ozcivit on the beach
Backstage
Burak Ozcivit - Backstage