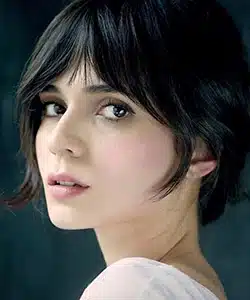 Profile
Name: Meric Aral
Birthdate: November 17, 1988
Birthplace: Istanbul, Turkey
Height: 171 cm
Eye Color: Brown
Hair Color: Black
Education: Istanbul Bilgi University – Law School (Istanbul Bilgi Universitesi Hukuk Fakultesi)
Talent Agency: Persona Sanat
Spouse:
Biography: Meric Aral was born in 17 November 1988. Her parents are lawyers and she graduated from Law School at Istanbul Bilgi University. After internship, she started her acting career. She worked as an assistant for movie director for a short while and made her debut with her role in Turkish series Sultan. She became well known with her role as Hale in popular turkish series Tide (Medcezir).

Meric Aral Tv Series / Movies
2012 – Sultan (as Diyar)
2013 – Honeymoon (Balayi) (Movie)
2013 – 2015 Tide (Medcezir) (as Hale)
2014 – The Amulet (Muska) (as Melis) (Movie)
2014 – Whisper if I Forget (Unutursam Fisilda) (as Mediha) (Movie)
2015 – Hesapta Ask (as Ezgi) (Movie)
2016 – High Society (Yuksek Sosyete) (as Ece)
2017 – Cingoz Recai (as Filiz) (Movie)
2017 – 2019 Oath (Soz) (as Eylem Mercier)
2018 – Stay with Me (Yanimda Kal) (as Zeynep) (Movie)
2020 – The Way We Are (Biz Boyleyiz) (as Beril) (Movie)
2020 – The Red Room (Kirmizi Oda) (as Doctor Ayse Golge)
2021 – Yakamoz S-245
2021 – The Game of My Destiny (Kaderimin Oyunu) (as Helin)
Awards
Social
Instagram: Official Instagram Account
Twitter: Official Twitter Account
Facebook:
E-Mail:
Trivia
Body Type:
Skills:
Zodiac Sign: Scorpio
Blood Type:
Hobbies:
Weight: 55 kg
Meric Aral Gallery