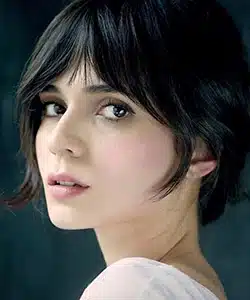 Profile
Name: Meric Aral
Birthdate: November 17, 1988
Birthplace: Istanbul, Turkey
Height: 1.71 m
Eye Color: Brown
Hair Color: Black
Education: Istanbul Bilgi University – Law School (Istanbul Bilgi Universitesi Hukuk Fakultesi)
Talent Agency: Persona Sanat
Spouse:
Biography: Meric Aral was born on 17 November 1988 in Istanbul. Her parents are lawyers and she graduated from Law School at Istanbul Bilgi University. After internship, she started her acting career. She worked as an assistant for movie director for a short while and made her debut with her role in Turkish series Sultan. She became well known with her role as Hale in popular turkish series Tide (Medcezir).

Meric Aral Tv Series / Movies
Awards
Social
Instagram: Instagram – mericaral
Twitter: Twitter – @mericaral
Facebook:
E-Mail:
Trivia
Body Type:
Skills:
Zodiac Sign: Scorpio
Blood Type:
Hobbies:
Weight: 55 kg
Meric Aral Gallery
Caglar Ertugrul & Meric Aral – Bu Kalp Seni Unutur Mu
ÇAĞLAR ERTUĞRUL & MERİÇ ARAL - BU KALP SENİ UNUTUR MU - YANIMDA KAL FİLM MÜZİĞİ