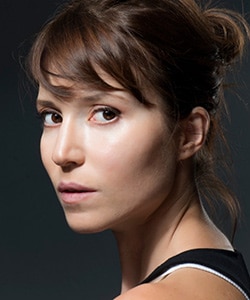 Profile
Name: Selma Ergec
Birthdate: November 1, 1978
Birthplace: Hamm, Germany
Height: 178 cm
Eye Color: Brown
Hair Color: Brown
Education: Westfaelische-Wilhems- Universitaet Munster – Medical School (dropped out)
Talent Agency:
Spouse: Can Oz (m. 2015-present)
Children: Yasmin Oz
Biography: Selma Ergec was born in Hamm, Germany in 1978. Her father is a Turkish doctor from Adana and her mother is a German nurse. She went to medical school at the Westfaelische-Wilhems- Universitaet Münster for 3 years. While she was studying at medical school, she came to Turkey for an internship. She was planning to stay in Turkey for 6 months, she started her acting career and then drop out of school in 2001. Selma Ergec was chosen as a Most Beautiful Model of the Year at Best Model of Turkey competition in 2001. Selma Ergec got married to Can Oz in 26 September 2015 and gave birth to a baby girl named Maya in 8 April 2016. Selma Ergec speaks German, English, Turkish, French fluently.
Selma Ergec Tv Series / Movies
2000 – 2001 Boyle mi Olacakti (as Merve)
2002 – 2003 Half of Apple (Yarim Elma) (as Ayca)
2005 – The Net 2.0 (as Desk Clerk) (Movie)
2006 – Sohret (as Natalie)
2007 – Hircin Kiz (as Gul)
2007 – 5 Vakit (Movie)
2007 – Sis ve Gece (as Mine) (Movie)
2007 – Rebellious (Asi) (as Defne Kozcuoglu)
2010 – Heart Pain (Kalp Agrisi) (as Azize)
2010 – Ses (as Derya) (Movie)
2011 – Magnificent Century (Muhtesem Yuzyil) (as Hatice Sultan)
2013 – Senin Hikayen (as Esra) (Movie)
2014 – Affairs of the Heart (Gonul Isleri) (as Saadet)
2014 – Kirimli (as Maria Koseckhi) (Movie)
2016 – The Ghosts of Garip (Kanli Girdap) (as Nina) (Movie)
2016 – 2017 Wounded Love (Vatanim Sensin) (as Halide Edip Adivar)
2018 – Immortals (Yasamayanlar) (as Karmen)
2021 – The Gift (Atiye) (as Umut)
2021 – Drunk on Love (Mesti Ask) (Movie)
2021 – Chrysalis (Camdaki Kiz) (as Selen Koroglu)
Awards
2001 – Best Model of Turkey – Most Beautiful Model of the Year (Yilin En Guzel Mankeni)
2011 – 16. Sadri Alisik Awards (16. Sadri Alisik Odulleri) – Best Actress (Voice) – Yilin En Iyi Kadin Oyuncusu (Ses)
2012 – Ahi Evran University (Ahi Evran Universitesi) – The Most Successful Actress of the Year (Magnificent Century) – Yilin En Basarili Genc Kadin Oyuncusu (Muhtesem Yuzyil)
Social
Instagram: https://www.instagram.com/selmaergecofficial/
Twitter: https://twitter.com/selmaergecresmi
Facebook: https://www.facebook.com/selmaergecresmisayfasi
E-Mail: [email protected]
Official Website: http://www.selmaergec.com/
Trivia
Body Type:
Skills: plays the violin
Star Sign:
Blood Type:
Hobbies: Painting, Taekwondo, modern dance / jazz dance, horseback riding, fashion design, Fencing and diving.
Language: German, English, Turkish, French fluently and Italian limited proficiency.
Stats
Breast: 85
Shoe size: 39
Size: 36
Waist: 60
Hips: 90
Selma Ergec Showreel