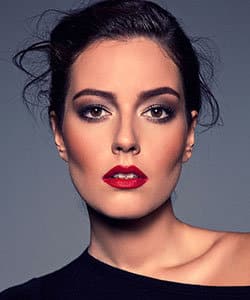 Profile
Name: Pelin Akil
Birthdate: April 17, 1986
Birthplace: Istanbul, Turkey
Height: 172 cm
Eye Color: Brown
Hair Color: Brown
Education: Istanbul University Musical Theatre (Istanbul Universitesi Muzikal Tiyatro); Anatolia University Public Relations (Anadolu Universitesi Halkla Iliskiler)
Talent Agency:
Spouse: Anil Altan (m. 2016-present)
Children: Lina Altan, Alin Altan
Biography: Pelin Akil made her debut with her role as Zehra in Turkish drama named Those at The Back Rows (Arka Siradakiler). She knows English and Italian. She took part in various theatre plays Rent Musical, Marika's Wealth (Marika'nin Serveti), My Brother Has Come (Abim Geldi), Istanbulname, Store (Depo), and Sersefil-Korkuyorum Sevgilim.
Pelin Akil Tv Series / Movies
2008 – 2011 Those at The Back Rows (Arka Siradakiler) (as Zehra)
2012 – Wolf Law (Kurt Kanunu) (as Balli Naciye)
2012 – 2016 80s (Seksenler) (as Secil)
2012 – Game of Silence (Suskunlar) (as Nisan)
2013 – Mom (Ana) (Short Movie)
2013 – Ottoman Slap (Osmanli Tokadi) (as Irmak Guzel)
2013 – Water and Fire (Su ve Ates) (as Nupelda) (Movie)
2013 – Live Out-of-Spite (Inadina Yasamak) (as Sedef)
2014 – Can't Run From Love (Asktan Kacilmaz) (as Yasemin)
2014 – Red Apple (Kizil Elma) (as Zeynep Cevher)
2015 – Of Course Not (Ne Munasebet) (as Nil)
2015 – Secret (Sakli) (as Elif) (Movie)
2016 – Family Job (Aile Isi) (as Mujde)
2017 – Groom Team (Damat Takimi) (as Sera) (Movie)
2017 – Crazy Love (Deli Ask) (as Nese) (Movie)
2017 – Circle: Cruel Revenge (Cember: Aci Intikam) (Movie)
2017 – Circle: Give the Game Away (Cember: Oyunu Bozuyorum) (as Sule) (Movie)
2018 – Discovery (Kesif) (as Semiha) (Movie)
2018 – Bittin Sen (as Pelin) (Movie)
2020 – 2021 Bandits (Eskiya Dunyaya Hukumdar Olmaz) (as Bahar Sincanli)
2021 – Barbarossa: Sword of the Mediterranean (Barbaroslar: Akdeniz'in Kilici) (as Isabel)
Social
Instagram: https://www.instagram.com/pelinakil/
Twitter: https://twitter.com/pelinakil
Facebook:
Youtube: https://www.youtube.com/c/pelinanil
Gallery
Pelin Akil Professional Smokey Eye Make-up
Pelin Akil Smokey Eye Makyajı | Hamiyet Akpınar
Pelin & Anil Wedding – Our Most Beautiful Day
En Güzel Günümüz Pelin & Anıl Düğün