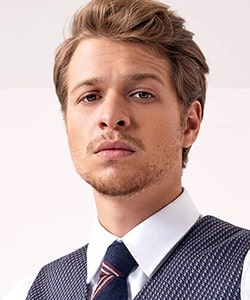 Profile
Name: Burak Yoruk
Birthdate: May 26, 1995
Birthplace: Istanbul, Turkey
Height: 192 cm (6′ 3½")
Eye Color: Brown
Hair Color: Yellow
Education: Beykent University – Theatre (Beykent Universitesi Tiyatro Bolumu)
Talent Agency: Ahmet Koralturk Management
Spouse:
Biography: Burak Yoruk was born in 26 May 1995 in Istanbul. He made his debut with his role in turkish series Biz Bosaniyoruz when he was a little boy. After then, he took part in various tv series including 20 Minutes (20 Dakika), 4N1K and Dam (Baraj). Burak Yoruk is interested in boxing.

Burak Yoruk Tv Series / Movies
2002 – World of Secrets (Sirlar Dunyasi)
2004 – We Are Getting Divorced (Biz Bosaniyoruz) (as Cancan)
2005 – Devil (Seytan)
2005 – Perde (Movie)
2007 – Dede Korkut Hikayeleri (as Salur Kazan)
2013 – 20 Minutes (20 Dakika) (as Tayfur Solmaz)
2013 – I Loved Him So Much (Ben Onu Cok Sevdim) (as Aydin Menderes)
2014 – Life As It is (Hayat Yolunda) (as Recep)
2017 – Forever Bound (Dayan Yuregim) (as Erdem)
2017 – 4N1K (as Baris Ozansoy) (Movie)
2018 – 4N1K 2 (as Baris Ozansoy) (Movie)
2018 – 4N1K First Love (4N1K Ilk Ask) (as Baris Ozansoy)
2019 – 4N1K New Beginnings (4N1K Yeni Baslangiclar) (as Baris Ozansoy)
2020 – 2021 Nehir (Baraj – Dam) (as Tarik Yilmaz)
2021 – 2022 Love Logic Revenge (Ask Mantik Intikam) (as Cinar Yilmaz)
2022 – Love and Hate (Seversin) (as Tolga Tuna)
Things You Should Know About Burak Yoruk
Your worst habit?
Being impatient
Your best habit?
Being warmhearted
When do you get up?
If I work, I get up around 8-9 am. If not, I get up around 10-11 am.
What do you eat at breakfast?
Oatmeal, Raw nuts, Banana, Honey.
Do you exercise on the morning?
Yes, I often do boxing and push-up.
Are you organized or messy?
I am messy.
Do you prefer many friends or a few friends?
I prefer having many friends.
What is a perfect date for you?
A beautiful dinner with a tranquil music.
Which movie make you laugh to death?
Gora
Which movie maket o cry?
Hachiko
Your best movie?
Ocean's serials
Your favorite tv series?
Narcos
If you had a chance, which movie would you take part?
Fight Club
Your favorite music album?
Skepta – Konnichiwa
Your favorite food?
Hamburger
Awards
Social
Instagram: Official Instagram Account
Twitter:
Facebook:
E-Mail:
Youtube Channel: Official Youtube Channel
Trivia
Body Type:
Skills:
Star Sign: Gemini
Blood Type:
Hobbies:
Weight: 74 kg
Burak Yoruk Gallery
Burak Yoruk at UNTOLD Festival
UNTOLD Festivaline Gittim, Neler Yaşadık? #ColinsJeansFest