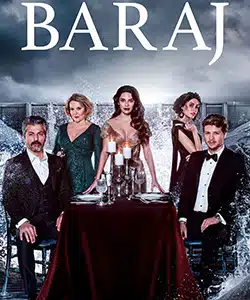 Details
Original Title: Baraj
English Title: Nehir
Also Known As: Dam
Genre: Romance, Drama
Episodes: 39
Broadcast Network: Fox Tv
Broadcast Period: 17 March 2020 – 11 May 2021
Production Company: Medyapim & N0:9 Productions
Director: Hasan Tolga Pulat
Screen Writer: Hasan Tolga Pulat
Filming Locations: Istanbul; Sakarya Akcay Dam (Akcay Baraji)
Synopsis
Nehir (Baraj – Dam) Turkish series is a remake of Turkish movie named Dam made in 1977 starring Turkan Soray and Tarik Akan.
Nehir (Biran Damla Yilmaz) is a young and beautiful girl who uses her beauty to swindle young men. Since she was left alone by her parents and forced to survive in the streets, she has been living together with her mentor Zerrin (Sumru Yavrucuk).
Zerrin and Nehir become a good business partner and work together to swindle young men. While Nehir seduces a wealthy man and makes him fall in love with her, Zerrin pretends to be Nehir's mother.
The fall guy expects to get married to Nehir and even has a wedding ceremony, but Nehir and Zerrin run away and remove their trace after they take all the wedding presents and hack the credit cards of the fall guy.

Nehir is tired of her life and changing her name all the time. She thinks that she cannot be even herself for a long time. She just finds herself and becomes happy while she is speaking with Nazim (Feyyaz Duman) whom she has met at online chat forum. Even though she never meets Nazim in person and never sees his photo, Nehir feels so comfortable while speaking with him online.
Nazim (Feyyaz Duman) is a middle aged guy who works as a construction site manager. He has a wound at his face and for this reason, he has a difficulty to communicate with women in person. Hence, he feels comfortable while speaking with Nehir online without showing his face.
After 4 months of speaking online, Nehir wants to know more about Nazim and sends him her photo. She asks for his photo in return.
Since Nehir is a beautiful and young girl, Nazim cannot find a courage to send his photo due to a wound on his face.
At that time, in order not to lose Nehir, he just sends a photo of Tarik (Burak Yoruk) who is a young and handsome guy coming from Istanbul to work at the dam.
Nazim thinks that he would continue to communicate with Nehir as it has been and this photo would not cause any problem.
However, things get complicated as time passes. Nehir sees her photo on the newspaper due to her latest swindling job. She learns that the fall guy has been in coma because of the sleeping pill given by Nehir.
Upon learning these news, Nehir feels so bad and wants to see Nazim in person.
Nazim has nothing to do but to refuse to visit Nehir by making excuses about the tight schedule of his work.
Nehir, on the other hand, decides to go to the dam where Nazim works in order to make a surprise. She just wants to see him in person for only 5 minutes and then return to Istanbul.
Nehir's surprise visit put Nazim in a difficult situation. Even though it is so hard for him, Nazim builds up his courage and decides to meet her in person and introduce himself.
However, Nazim's life turns upside down when he stands in front of Nehir and says his name.
Nehir cannot recognize Nazim when she comes across to him because she assumes that the guy she has been speaking with is a young and handsome guy. She thinks that the middle aged guy with a wound on his face standing in front of herself is sent by Nazim.
Nehir makes it clear that she would not return unless she sees Nazim in person. If Nazim cannot make it, she can go to the dam by herself no matter what.
Nazim has nothing to do but to accompany Nehir along the way towards the dam. He introduces himself as Tarik who is working at the dam. He is stuck in a difficult situation and keeps telling lies until he sends Nehir away.
Nazim explains his situation to Tarik and asks for his help desperately. He wants Tarik to pretend as if he is Nazim for just 5 minutes and send Nehir away by making excuses about the work.
Tarik accepts to help and starts to take advantage of this situation to run away from the construction site where he is kept forcibly.
When Tarik meets Nehir in person, he breaks his promise and starts to use her presence to run away from the dam. Instead of sending Nehir away, he convinces her to stay so that he could return his usual life in Istanbul with the help of Nazim.
Even though Tarik and Nazim are totally different (one is young, handsome, social, and womanizer whereas the other is middle aged, sensitive, recessive, and distanced), they try to do their best not to reveal the truth about their identities.
Nehir (baraj – dam) tv series story is about Nehir and Nazim who has met through an online chat forum and start. Will Nehir understand that the person whom she has been speaking with through an online chat forum and the person whom she has been seeing in person is totally different? Will Nazim eventually reveal his true identity? Will Nehir give up swindling young men and have an ordinary life?
Nehir (Baraj – Dam) Tv Series Cast
External Links
Official Site: https://www.fox.com.tr/Baraj/
English Wikipedia:
Imdb:
Social
Instagram: https://www.instagram.com/barajfox/
Twitter: https://twitter.com/barajfox
Facebook: https://www.facebook.com/barajfox/
Youtube Channel: https://www.youtube.com/c/Baraj/
You Might Also Like
Love in the Air (Yer Gok Ask)
Nehir (Baraj – Dam) Turkish Drama Relationship Chart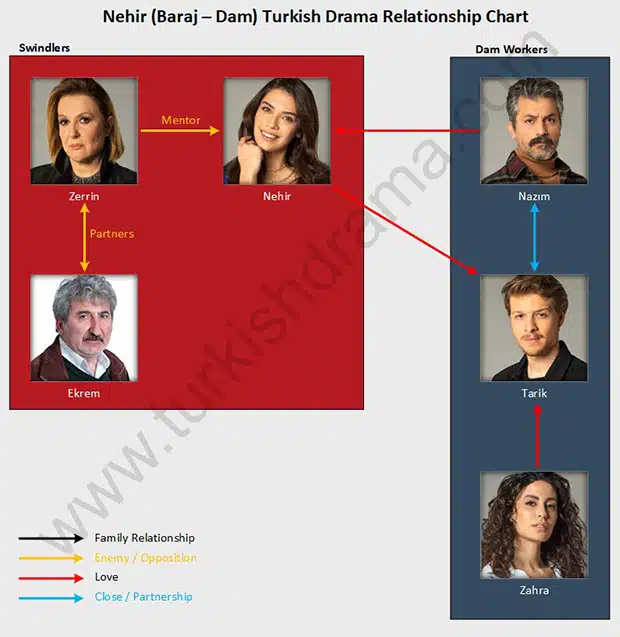 Nehir (Baraj – Dam) Turkish Series Trailer – 1 (with English Subtitle)
Nehir (Baraj - Dam) Turkish Series Trailer - 1 (Eng Sub)
Dam Turkish Drama Trailer – 2 (with English Subtitle)
Dam Turkish Drama Trailer - 2 (with English Subtitle)
Baraj Tv Series Trailer – 3 (with English Subtitle)
Nehir (Baraj - Dam) Tv Series Trailer - 3 (with English Subtitle)