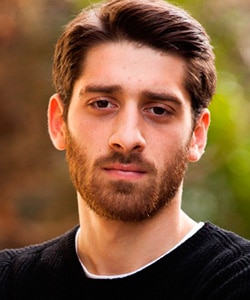 Profile
Name: Bora Akkas
Birthdate: October 12, 1990
Birthplace: Istanbul, Turkey
Height: 178 cm
Eye Color: Brown
Hair Color: Brown
Education: Isik University Fine Arts School – Theatre (Isik Universitesi Guzel Sanatlar Fakultesi Tiyatro Bolumu)
Talent Agency: Onem Gunal Agent Management
Spouse: Seda Turkmen (m. 2017–2019)
Biography: Bora Akkas was born in 12 October 1990 in Istanbul. His full name is Doga Bora Akkas. After studying at isik University, he also got training from Istanbul City Theatres. He made his debut with his role in Gonlumdeki Kosk Olmasa and was awarded Golden Orange Prize (Altin Portakal Odulu). Bora Akkas is also interested in music through playing bas guitar as a group member of Hakunamatata.

Bora Akkas Tv Series / Movies
2002 – House of Hearts (Gonlumdeki Kosk Olmasa) (Osman) (Movie)
2002 – Don't Forget Me (Unutma Beni) (Sergen)
2004 – Disi Kus
2004 – Rain Season (Yagmur Zamani) (as Bora)
2004 – The European Side (Avrupa Yakasi) (Cayci Ciragi)
2006 – The Little Apocalypse (Kucuk Kiyamet) (Batu) (Movie)
2007 – Last Choice (Son Tercih) (Mert)
2008 – Do You Have a Courage for Love (Cesaretin Var mi Aska) (Soner Karatas)
2009 – Adab-i Muaseret (Eko) (Movie)
2009 – 2011 Large Family (Genis Aile) (Zekai Kirisci)
2010 – Country Matter (Memleket Meselesi) (Deniz) (Movie)
2010 – Loneliness at Castle (Kaledeki Yalnizlik) (Movie)
2011 – Ludicrous Couple (Calgi Cengi) (Movie)
2012 – Stone School (Tas Mektep) (Mehmet) (Movie)
2012 – Kaos: Orumcek Agi (UGT Bilgi Sistem Uzmani) (Movie)
2012 – While My Mom is Sleeping (Annem Uyurken) (Mert)
2012 – Yavuz (Movie)
2013 – High Entrance (Yuksek Giris) (Dogukan)
2013 – Hersey Yolunda Merkez (Efe Selim)
2013 – Baby Work (Bebek Isi) (Ozan)
2014 – Mirror of My Heart (Ruhumun Aynasi) (Cetin)
2014 – Mahalle Kahvesi
2014 – Boynu Bukukler (Denisik Mithat)
2015 – Student Affairs (Ogrenci Isleri) (Umut) (Movie)
2015 – Husband Factor (Kocan Kadar Konus) (Mehmet Sukru) (Movie)
2015 – Large Family: Post-it (Genis Aile: Yapistir) (Zekai) (Movie)
2015 – My Mother's Wound (Annemin Yarasi) (Salih) (Movie)
2016 – Double Bliss (Cifte Saadet) (Tarik Catik)
2016 – Husband Factor: Resurrection (Kocan Kadar Konus: Dirilis) (Mehmet) (Movie)
2016 – Large Family 2 (Genis Aile 2: Her turlu) (Zekai) (Movie)
2017 – For My Son: Global Capital (Poyraz Karayel: Kuresel Sermaye) (Gurbuz) (Movie)
2017 – Dayan Yuregim (Rifat)
2017 – Ay Lav Yu Tuu (Firat) (Movie)
2017 – Lion Family (Aslan Ailem) (Mutlu Aslan)
2018 – Hurkus: Goklerdeki Kahraman (as Mehmet) (Movie)
2019 – Bullet (Kursun) (Rifat Ayaz)
2019 – Topal Sukran'in Maceralari (Movie)
2019 – Dengi Dengine (Mert)
2020 – Tutunamayanlar (as Yagiz)
2020 – The Agency (Menajerimi Ara) (as Bora Akkas)
2021 – Sen Hic Atesbocegi Gordun mu? (as Veli) (Movie)
2021 – One of Us (Icimizden Biri) (as Adam Willson)
2021 – Yesilcam (as Hakan Incekara)
2022 – Gain (Ayak Isleri) (as Kaner)
2022 – The Bad Penny (Uc Kurus) (as Cetin)
Awards
Theatre Plays
Social
Instagram: Official Instagram Account
Twitter: Official Twitter Account
Facebook:
E-Mail:
Trivia
Body Type:
Skills:
Star Sign: Libra
Blood Type:
Hobbies:
Weight: 71 kg
Bora Akkas Gallery