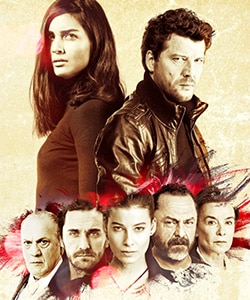 Details
Original Title: 20 Dakika
English Title: 20 Minutes
Also Known As:
Genre: Romance, Drama, Action
Episodes: 25
Broadcast Network: Star TV
Broadcast Period: January 01, 2013 – June 27, 2013
Production Company: Ay Yapim
Director: Serdar Isik
Screen Writer: Kerem Deren, Pinar Bulut
Synopsis
Melek (Tuba Buyukustun) is a beautiful and young woman who has a happy life with her lovely husband and two children. She has a pastry shop and works all day to cook delicious cakes. Her husband Ali (Ilker Aksum) on the other hand, works at the university as a history teacher. One day, their perfect life turns upside down.
The day when they are celebrating buying a house, the door is knocked and the police arrests Melek for attempted murder. Everything develops so fast that neither Ali nor Melek understands what is going on.
The police takes Melek to the police station and Ali can't do anything. This day transforms Ali's life so radically that he will never be able to go back to the way he used to live and his whole life will change.

Melek is convicted of murdering a young man and after a trial, she is sentenced to life prison. The police finds Melek's fingerprints on the murder weapon.
Ali tries to prove the innocence of his wife and wants his life back. However, he could not find any evidence that can negate the evidence against her.
Ali becomes obsessed with the idea of breaking her wife out of jail. Although he is a decent and upright guy who has never broken any rule before, he decides to save his wife. He finds Kedi (Bulent Emin Yarar) who successfully escaped from prison several times and consults him to learn the way to escape from prison.
In 20 minutes (20 dakika) tv series, you will see the story of Melek and Ali who love each other to death and risk their lives for each other. You will explore how their perfect life changes in 20 minutes. Will Ali manage to discover the truth about this crime? Will the marriage of Ali and Melek stand for this devastated event? Will Ali and Melek be able to go back to the way they used to live?
20 Minutes Tv Series Cast
Tuba Buyukustun as Melek Halaskar
Ilker Aksum as Ali Halaskar
Cihat Tamer as Nedim Halaskar
Ayten Uncuoglu as Zeynep Halaskar
Miray Akay as Duru Halaskar
Ozgur Ege Nalci as Yagiz Halaskar
Metin Cekmez as Necmettin Solmaz
Defne Kayalar as Derin Solmaz
Burak Yoruk as Tayfun Solmaz
Bulent Emin Yarar as Mesut Bilaloglu (Kedi)
Mujde Uzman as Umut Bilaloglu (Kuzgun)
Firat Celik as Ozan Cevikoglu
Ipek Bilgin as Sureyya Gurok
External Links
Official Site: https://www.ayyapim.com/en-us/20-minutes
English Wikipedia:
Imdb:
You Might Also Like
Black Money Love (Kara Para Ask)
Ezel
20 Minutes Tv Series Gallery
20 Minutes Tv Series Trailer (with English Subtitle)