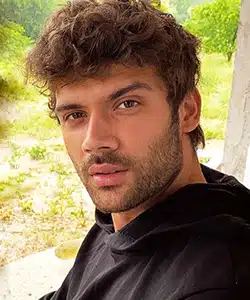 Profile
Name: Caner Topcu
Birthdate: June 25, 1997
Birthplace: Istanbul, Turkey
Height: 184 cm
Eye Color: Brown
Hair Color: Brown
Education: Theatre Lessons from Harun Ozer (Harun Ozer Tiyatro Egitimi), Acting Lessons from Fulya Filazi (Fulya Filazi Oyunculuk Egitimi)
Talent Agency: Icon Talent Management
Spouse:
Biography: Caner Topcu was born in Istanbul on June 25, 1997. His full name is Ishak Caner Topcu. He graduated from Samandira Vocational and Technical Vocational High School and took acting lessons from Harun Ozer and Fulya Filazi. He made his debut with his role in Turkish movie Bilincsizler.
Caner Topcu Tv Series / Movies
2015 – Bilincsizler (as Recep) (Movie)
2018 – Evrensel Dongu: Yasam Agacina Yolculuk (as Omer Ali) (Movie)
2019 – Turn of Duty 24/7 (Nobet)
2019 – Evrensel Dongu: Zamansal Yolculuk (as Omer Ali) (Movie)
2021 – Hic (as Deniz)
2021 – Barbarossa: Sword of the Mediterranean (Barbaroslar: Akdeniz'in Kilici) (as Ilyas Reis)
Awards
Social
Instagram: https://www.instagram.com/canrtpcu/
Twitter:
Facebook:
E-Mail:
Trivia
Body Type:
Skills:
Zodiac Sign: Cancer
Blood Type:
Hobbies:
Weight: 77 kg
Gallery
Talking about Barbarossa
Caner Topçu'nun ilginç Engin Altan Düzyatan anısı | "Barbaroslar kariyerimdeki dönüm noktası oldu"