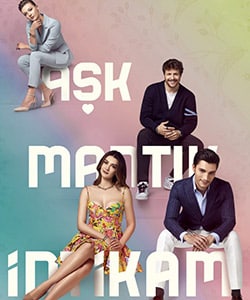 Details
Original Title: Ask Mantik Intikam
English Title: Love Reason Get Even
Also Known As: Love Logic Revenge (Literal Title), Cunning Single Lady
Genre: Comedy, Romance
Episodes: 42
Broadcast Network: FOX Tv
Broadcast Period: 18 June 2021 – April 22, 2022
Production Company: No:9 Productions
Director: Murat Ozturk
Screen Writer: Ozlem Inci Hekimoglu; Nil Gulec Unsal
Filming Locations: Istanbul, Turkey
Synopsis
Esra (Burcu Ozberk) is a beautiful girl who wants to marry a man who has a steady job. Her family has always struggled with financial difficulties due to her father's business failures. In order not to have financial problems throughout her life, Esra makes a reasonable choice and decides to get married to a man who has a steady job.
Ozan (Ilhan Sen) is an engineering genius who lives in the same neighborhood where Esra lives. He has been in love with Esra since his childhood. He has a potential to have a steady job and provide a comfortable life for his bride. For this reason, he becomes Esra's target.

Esra and Ozan get married and start to have a comfortable and stable life until the day Ozan quits his steady job. Ozan wants to develop a new software, realize his dreams and start his own company. While dreaming of becoming a housewife and having a comfortable life, Esra finds herself in a difficult position. She eventually starts to suffer from financial and moral difficulties in the marriage.
Esra becomes the sole bread earner in their marriage while Ozan bounces from one bankruptcy to another. She shoulders all the financial burden, works in various jobs and struggles to keep them afloat. Frustration and exhaustion force her to get a divorce.
When Esra suffers a miscarriage from the stress of being the sole bread earner, she decides not to continue her marriage. Without telling anything about her miscarriage, she files a divorce case after a couple of years of marriage. She does not give another chance to Ozan and even says that she has never fall in love with him.
Eventually the two get divorced. Esra returns to her parents' house and starts to work as a waitress. Ozan, on the other hand, finds a financial support for his software application and gets an opportunity to start his own company Milenyum Soft. Ozan eventually transforms from a loser into a successful CEO. He is now successful, rich and handsome guy.
2 years after the divorce, Esra discovers that Ozan has become a successful businessman. While she has neither a successful career nor a marriage, her ex-husband enjoys a wealthy life.
Esra expects to get an apology for her sufferings in her marriage. She just wants an acknowledgement for what she has done to financially support her family throughout her marriage. However, when she comes across Ozan, she becomes so surprised due to Ozan's attitude.
Ozan acts too arrogant and cold. He never forgives Esra for leaving him behind. He thinks that Esra is trying to contact with him because he has become wealthy. For this reason, he wants to give her money and makes it clear that he does not want to see her anymore.
Esra gets so angry with Ozan's attitude. She decides to get her revenge. She just wants an apology and acknowledgement for what she has done throughout her marriage. In order to do that, she will does anything to make Ozan fall in love with her again.
Esra decides to win Ozan back through becoming an intern at his company. By this way, she would be able to see him anytime. She applies for an internship position at the advertising department at Milenyum Soft.
The story becomes too complicated when Ozan's close friend Cinar (Burak Yoruk) also starts to work as an intern at Milemyum Soft and gets along well with Esra.
Love Logic Revenge (Ask Mantik Intikam) tv series story is about two young persons who get divorced due to financial difficulties in their marriage and come across to each other. Will Ozan eventually understand Esra and forgive her? Will Esra become successful at Milenyum Soft? Will Ozan and Esra fall in love with each other again? Will Esra execute her revenge plan successfully? Will Cinar and Esra get along well?
Love Logic Revenge (Ask Mantik Intikam) Tv Series Cast
Additional Cast Members
Ceren Koc as Elif Korfali
Sevda Bas as Zeynep
Sibel Sisman as Feraye
Mehmet Yilmaz as Musa
Murat Karasu as Arif
Gozde Duru as Gaye
Pelin Budak as Neriman
Asuman Karakollukcu as Adil
Characters:
Esra is beautiful young girl. Upon marriage to Ozan, she wants to become a housewife and live comfortably with the financial support of her husband. But, she finds herself in a difficult position when Ozan resigns from his steady job in order to start his own company. Esra shoulders all the burden of their financial needs and has to work in various jobs. Frustration and exhaustion forces her to divorce Ozan. 8 years later, she learns the success of her ex-husband and she decides to win him back through becoming an intern at his company. She just wants an apology and acknowledgment for what she has done throughout her marriage.
Ozan is an engineering genius. He has been in love with Esra since he was a little child. After getting married to her, he suddenly quits to become a software developer. After getting divorce, he finds a financial support for his software and founds his own company. He eventually transforms from a loser into a successful CEO.
Cagla is the heiress, being the daughter of the chairman of Milenyum Soft Company, where she works as a director. She is successful, beautiful and elegant. She has some feelings towards her business partner Ozan.
Cinar is Cagla's younger brother and Ozan's close friend. He used to be tutored by Ozan when he was a high school student. He is young, rich, good-looking and caring. After studying in London, he returns to Turkey and wants to start his own company. However, he needs to be an intern at Milenyum Soft Company for 6 months while hiding his real identity in order to prove his credentials to his father and gain his financial support. While working closely with Esra, he becomes attracted to her.
Menekse Erten (Zeynep Kankonde):
Menekse is Esra's mother. She is a good cook and owns a small home-made foods restaurant.
Zumrut Korfali (Gunay Karacaoglu):
Zumrut is Ozan's mother. She does not get along well with Menekse and returns to her neighborhood in order to brag about her wealthy life. She is so fond of her son and does not want to share him with anybody.
Ekrem Erten (Mehmet Korhan Firat):
Ekrem is Esra's brother. He is a troublemaker, he does not have a job and creates a new problem in each day. He falls in love with Elif at first sight.
Yalcin Erten (Suleyman Atanisev):
Yalcin is Esra's father.
Elif Korfali (Ceren Koc):
Elif is Ozan's sister.
Reyhan (Birgul Ulusoy):
Reyhan is Ozan's aunt who lives together with Menekse.
Zeyno (Sevda Bas):
Zeyno is Esra's best friend.
External Links
Official Site: Broadcast Network
English Wikipedia:
Imdb:
Social
Instagram: Official Instagram Account
Twitter: Official Twitter Account
Facebook: Official Facebook Account
Youtube Channel: Official Youtube Channel
You Might Also Like
Early Bird (Erkenci Kus)
Love For Rent (Kiralik Ask)
Love Logic Revenge (Ask Mantik Intikam) Tv Series Trailer (with English Subtitle)
Love Logic Revenge (Ask Mantik Intikam) Tv Series Trailer (English Subtitle)