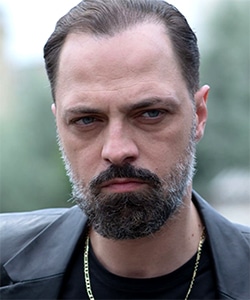 Profile
Name: Ertan Saban
Birthdate: December 4, 1977
Birthplace: Skopje, Macedonia
Height: 1.92 m
Eye Color: Blue
Hair Color: Brown
Education: Macedonia State Conservatory – Theatre (Makedonya Devlet Konservatuvari Tiyatro Bolumu)
Talent Agency: Talent Co.
Spouse: Inci Saban (m. ? – 2009), Ebru Ozkan (m. 2016 – present)
Children: Biricik Saban
Biography: Ertan Saban was born in Skopje in Macedonia on 4 December 1977. He has dual citizenship of Turkish and Macedonian. He graduated from the Theatre Department of the Macedonian State Conservatory. For many years, he performed with his brother Erman Saban and Luran Ahmeti in various theatre plays at the Turkish Theater of Macedonia. He came to Turkey and started acting. He became very well-known for his role as Alex in the hit historical Turkish series Farewell Rumalia (Elveda Rumeli). Besides acting, Ertan Saban also works as a screenwriter. He is co-writer of Limonata. Ertan Saban got married to Turkish actress Ebru Ozkan on 3 June 2016 and the couple has a daughter. Ertan Saban can speak Turkish, Bulgarian, Bosnian, Macedonian, Serbian, Albanian, Greek, English, and French.

Ertan Saban Tv Series / Movies
2001 – Vo Svetot Na Bajkite
2003 – Sultan Makami (as Palyaco Refik)
2003 – Kako Los Son (as Ivan) (Movie)
2004 – Azize (as Levent)
2004 – Kako Ubiv Svetec (as Bojan) (Movie)
2005 – Savcinin Karisi (as Dursun)
2005 – Kontakt (as Ertan Shaban) (Movie)
2006 – 2007 Sagir Oda (as Nogayhan Kirimli)
2006 – The Net (Movie)
2007 – 2009 Farewell Rumelia (Elveda Rumeli) (as Aleksi)
2008 – The Shadowless (Golgesizler) (Movie)
2008 – Children of the Otherside (Baska Semtin Cocuklari) (as Gurdal) (Movie)
2010 – Kilic Gunu (as Savas Kiziltan)
2010 – Hayde Bre (as Osman) (Movie)
2011 – Karakol (as Resat)
2011 – 2012 Bir Kadin Tanidim (as Umut Celebi)
2012 – 2013 Sakarya Firat (as Teo)
2012 – Balkan Is Not Dead (as Mustafa Kemal) (Movie)
2013 – Women of Visiting Day (Gorus Gunu Kadinlari) (as Hayalet Ertan)
2013 – Benimle Oynar misin? (as Muzo) (Movie)
2014 – 2015 Hatasiz Kul Olmaz (as Ferit Has)
2015 – Be Happy (Mutlu Ol Yeter) (as Babur)
2015 – 2016 Great Banishment the Caucasus (Buyuk Surgun Kafkasya)
2015 – Limonata (as Sakip) (Movie)
2015 – 2016 Valley of the Wolves: Ambush (Kurtlar Vadisi Pusu) (as Golge)
2018 – Mehmed The Conqueror (Mehmed: Bir Cihan Fatihi) (as Imparator Konstantinos)
2019 – The Prison Yard (Avlu) (as Oguz Okan)
2019 – Cicero (as Wellington) (Movie)
2020 – Gel Dese Ask (as Barlas Pusat)
2020 – The Hardest Thing (Aci Kiraz) (as Stoka) (Movie)
2021 – Seref Bey (as Luran)
2022 – Until My Last Breath (Son Nefesime Kadar) (as Vedat)
2022 – 2023 Another Chance (Gelsin Hayat Bildigi Gibi) (as Sadi Payasli / Emin Gungoren)
2022 – Yakamoz S-245 (Into the Deep) (as Captain Umut Sancakli)
2023 – Kadinlara Mahsus (Movie)
2023 – Dunya Bu
2023 – Akif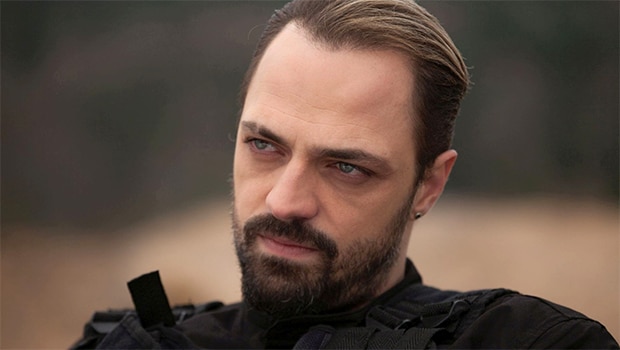 Awards
2008 – 4. Kaunos Altin Aslan Film Festivali – En Iyi Erkek Oyuncu (Baska Semtin Cocuklari)
Social
Instagram:
Twitter:
Facebook:
E-Mail:
Trivia
Body Type:
Skills:
Zodiac Sign: Sagittarius
Blood Type:
Hobbies:
Weight:
Languages: Turkish, Bulgarian, Bosnian, Macedonian, Serbian, Albanian, Greek, English, French
Be Happy (Mutlu Ol Yeter) Tv Series Behind the Scenes
Mutlu Ol Yeter Kamera Arkası