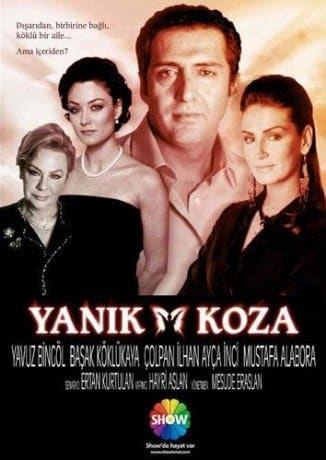 Details
Original Title: Yanik Koza
English Title: Burned Cocoon
Also Known As: Ramad Al Hob (Arabic)
Genre: Drama
Episodes: 68
Broadcast Network: Show TV
Broadcast Period: April 6, 2005 – February 21, 2007
Production Company: Limon Yapim
Director: Mesude Erarslan, Murat Saracoglu
Screen Writer: Ipek Aksoy (story), Ertan Kurtulan
Filming Locations: Bursa, Turkey
Synopsis
Celebi family is a wellknown and respected family in Bursa (the city in western Turkey). The eldest son, Galip (Yavuz Bingol) runs the family business which is based on textile. Galip is married to Hanzade (Basak Koklukaya) and has a son named Omerasaf. Hanzade is a lovely young woman who has a secret that she cannot tell even Galip about.
This secret has haunted her for most of her life and is a heavy burden on her shoulders. Although Hanzade has concealed the secret about her family for ten years, out of pure coincidence, Galip discovers this secret. An unforgettable tragedy transforms Galip's life so radically that he will never be able to go back to the way he used to live and his whole life will change.

In burned cocoon (yanik koza) tv series story, you will explore a family which is surrounded with secrets. How will Galip react when he learns that he is not the biological father of Omerasaf? Will Galip manage to discover the truth about their past and forgive his wife? Will the marriage of Galip and Hanzade stand for the secret buried in this family?
Burned Cocoon (Yanik Koza) Tv Series Cast
Additional Cast Members
Ayca Inci as Leyla Emirli
Mustafa Alabora as Asaf Celebi
Burak Davutoglu as Veysel
Tuncer Necmioglu as Dede Fikri
Serdar Ozer as Akin Celebi
Basak Dasman as Makbule
Kemal Okur as Celal
Baris Erdi as Omer Asaf
Perihan Savas as Hacer
Hande Kazanova as Suna
Saadet Gurses as Ayfer
Erdal Cindoruk as Cemal
Ali Karagoz as Cuneyt
Yavuz Karakas as Arif
External Links
Official Site: https://www.netflix.com/title/80123567
English Wikipedia:
Imdb:
You Might Also Like
The Big Lie (Buyuk Yalan)
Autum (Sonbahar)
Burned Cocoon (Yanik Koza) Tv Series Trailer
Burned Cocoon (Yanik Koza) Tv Series Trailer
Burned Cocoon (Yanik Koza) Tv Series Trailer 2
Burned Cocoon (Yanik Koza) Tv Series Trailer 2