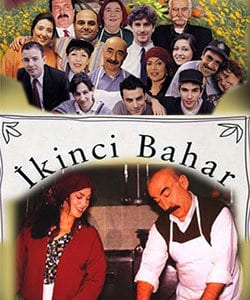 Details
Original Title: Ikinci Bahar
English Title: Second Spring
Also Known As:
Genre: Family, Romance, Comedy
Episodes: 37
Broadcast Network: ATV
Broadcast Period: October 29, 1998 – January 11, 2001
Production Company: Erler Film
Director: Ugur Yucel, Orhan Oguz, Turkan Derya
Screen Writer: Sulhi Dolek
Filming Locations: Samatya/Istanbul, Turkey
Synopsis
Ali Haydar (Sener Sen) is a kebab-master from Antep which is a city in the east of Turkey. After losing his wife, he gives all his attention to his three daughters. He has a simple life with his kebab-restaurant.
One day, he meets Hanim (Turkan Soray) and reluctantly hires her as a dishwasher. Hanim is a tough, stubborn and forceful woman. She is a widow too and has a daughter and a son. A profound love story begins in the kebab restaurant.
Although there are many obstacles in front of their ways, Ali Haydar and Hanim show us that hope does not end.

In second spring (ikinci bahar) tv series story, you will explore a romance, comedy, family relations, hope, anger, conflict and betrayal at the same time. Also, you will see that a love story does not have to include a young couple. Will Hanim and Ali Haydar come together at the end? Will children approve their relationship? Will second spring start after cold and long winter?
Second Spring (Ikinci Bahar) Tv Series Cast
Turkan Soray as Hanim Meric
Sener Sen as Ali Haydar Suruc
Ozan Guven as Ulas Meric
Nurgul Yesilcay as Gulsum Meric
Tarik Papuccuoglu as Vakkas Resuloglu
Nedim Saban as Medet Resuloglu
Yasemin Conka as Melek Suruc Resuloglu
Devin Ozgur Cinar as Cennet Suruc
Baris Dincel as Timucin Durust
Guven Hokna as Neriman Durust
Merve Er as Huriye Suruc
Mehmet Ali Oral as Murat
Ozkan Ugur as Secaattin Durust
Tan Sagturk as Timothy Percons
Meral Okay as Melahat
Cezmi Baskin as Kizil Basri
Nazli Tosunoglu as tansu
Bulent Oran as Davut Meric
Ipek Deger as Ceren
Recognitions
28. Golden Butterfly Awards (2000): Best Actress (Turkan Soray)
Main Characters' Other Popular Dramas
Turkan Soray: Sweet Life (Tatli Hayat)
Guven Hokna: The Fall of Leaves (Yaprak Dokumu), Zerda (Zerda)
Nurgul Yesilcay: Love and Punishment (Ask ve Ceza), Vine Mansion (Asmali Konak)
Ozan Guven: An Istanbul Fairytale (Bir Istanbul Masali), My Dear Family (Canim Ailem)
External Links
Official Site: http://www.erlerfilm.com/?d245/ikinci-bahar
English Wikipedia:
Imdb:
You Might Also Like
My Dear Family (Canim Ailem)