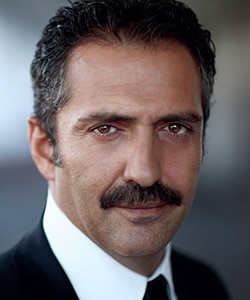 Profile
Name: Yavuz Bingol
Birthdate: October 7, 1964
Birthplace: Istanbul, Turkey
Height: 177 cm
Eye Color: Brown
Hair Color: Black
Education: Ankara State Conservatory – Piano (dropped out) (Ankara Devlet Konservatuvari korno – piyano bolumu (Terk))
Talent Agency:
Spouse: Oyku Gurman (m. 2015–2016)
Children: Turku Sinem Bingol
Biography: Yavuz Bingol was born in 7 October 1964 in Istanbul. Her father is Turkish literature teacher while her mother is a folkloric singer. Due to his father's occupation, he went to primary school in Konya, Istanbul and Ankara. While he was a secondary school student, he passes Ankara State Conservatory exams for piano. In 1979, he dropped out school and moved to Izmir. With the direction of his mother, Yavuz Bingol started to be interested in music in 1983. Yavuz Bingol became very successful in his music career and launched almost 15 music albums.
Yavuz Bingol Tv Series / Movies
1998 – The Republic (Cumhuriyet) (as Yahya Hayati)
1999 – Mrs. Salkim's Diamonds (Salkim Hanimin Taneleri) (Movie)
2002 – He is in the Army Now (O Simdi Asker) (as Karlidag) (Movie)
2002 – Ladies and Gentlemen (Bayanlar Baylar) (as Ozan)
2002 – Zerda (as Sahin Eroglu)
2004 – Ah Be Istanbul (as Metin)
2005 – Burned Cocoon (Yanik Koza) (as Galip Celebi)
2005 – In the Jail Now (O Simdi Mahkum) (as Karlidag) (Movie)
2006 – Returning to Home (Eve Donus) (Movie)
2007 – The White Angel (Beyaz Melek) (as Hidir) (Movie)
2007 – 2008 Esref Saati (as Kara Esref)
2008 – Three Monkeys (Uc Maymun) (as Eyup) (Movie)
2009 – The Wings of The Night (Gecenin Kanatlari) (as Ali Riza) (Movie)
2010 – Atese Yurumek (as Fikret)
2011 – Salvation: Last Stop (Kurtulus Son Durak) (as Huseyin) (Movie)
2011 – 72nd Cell (72. Kogus) (Movie)
2011 – Fire (Yangin Var) (Movie)
2011 – Istanbul (as Halil) (Movie)
2012 – Mevsim Cicek Acti (Movie)
2012 – Beyond the Clouds (Bulutlarin Otesi) (as Bekir Aksu)
2012 – Children of Gallipoli (Canakkale Cocuklari) (Movie)
2013 – 2015 Black Rose (Karagul) (as Firat Mercan)
2015 – Love Resembles You (Ask Sana Benzer) (as Yusuf Baba) (Movie)
2015 – Love Season (Ask Zamani) (as Orhan)
2016 – On the Wings of Love (Sevda Kusun Kanadinda) (as Zafer Erbay)
2021 – Akif (as Mehmet Akif Ersoy) (Movie)
2021 – Teskilat (as Adem Seyhan)
Music Albums
1989 – Gun Isimis
1991 – Orgutlenmisler Bahari
1993 – Ates Daglari Sarmis
1994 – Onlarin Turkusu
1995 – Sen Turkulerini Soyle
1997 – Baharim Sensin
1998 – Gulen Az
1999 – Sitemdir
2000 – Usudum Biraz
2000 – Umuda Ezgi'ler
2002 – Belki Yine Gelirsin
2004 – Unutulur Her Sey
2005 – Iz
2007 – Yare
2010 – Kul
2012 – Ates
2018 – Ihsan
Awards
2001 – 7. Kral Tv Video Muzik Odulleri – Turk Halk Muzigi En Iyi Erkek (Usudum Biraz)
2003 – 9. Kral Tv Video Muzik Odulleri – Turk Halk Muzigi En Iyi Erkek (Nisan Yagmuru)
Theatre Plays
2009 – 72. Kogus
2011 – Kesanli Ali Destani
Social
Instagram: https://www.instagram.com/yavuzbingolofficial/
Twitter: https://twitter.com/YvzbNgL
Facebook:
Youtube Channel: https://www.youtube.com/yavuzbingolofficial
Trivia
Body Type:
Skills:
Zodiac Sign:
Blood Type:
Hobbies:
Weight:
Yavuz Bingol & Oyku Gurman – Bir Gonule Ask Girince
Yavuz Bingol & Oyku Gurman - Bir Gonule Ask Girince