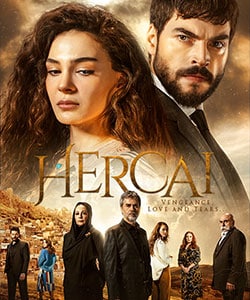 Details
Original Title: Hercai
English Title: Hercai
Also Known As: Wind of Love, Beqaror, Zemër e Lëkundur, Nemoguća ljubav, زهرة الثالوث, هرجایی, Amor ventoso, Ljubav osvetnika, Orgulho, Wind der Liebe, Ventoso, A szerelem szele, Pansies
Genre: Romance, Drama
Episodes: 69
Broadcast Network: Atv
Broadcast Period: March 15, 2019 – April 25, 2021
Production Company: Mia Production
Director: Baris Yos, Cem Karci, Benal Tairi
Screen Writer: Feraye Sahin, Zeynep Sirin Yalgin, Bersan Tan, Pelin Gulcan
Filming Locations: Mardin, Midyat
Synopsis
Hercai Turkish series is adapted from Sumeyye Ezel's novel named Hercai.
Miran Aslanbey (Akin Akinozu) is a successful businessman who is young, charismatic, and cold. He has been raised by his grandmother Azize (Ayda Aksel) after his parents died years ago. Miran has been raised with anger and vengeance towards Sadoglu family which was responsible for the death of his parents.
In order to take his revenge, Miran comes to Midyat and starts to execute his plan. He starts to do business with Sadoglu family which is one of the wealthiest families in Midyat. He does his best to prove that he is a trustworthy man.

After 2 years working together with Sadoglu family, Miran manages to gain their trust, become their business partners, and build interdependent business relations. Now he proceeds to the next step.
According to Miran's vengeance plan, he would get married to the girl of the Sadoglu family, destroy her and thereby, dishonor Sadoglu family. Since he sets up an interdependent business relation, Sadoglu family would not be able to cancel the contract even though their family name is defamed.
By this way, Miran would manage to bring his enemy on his knees, become the strongest man in Midyat and hence, restore his family honor after 27 years.
Out of pure coincidence, Miran meets the daughter of his mortal enemy. Reyyan (Ebru Sahin) is a young, beautiful, innocent, and pure girl who is the daughter of Hazar Sadoglu (Serhat Tutumluer). She lives in a big Sadoglu mansion together with her family, her uncle's family, and her grandfather.
Reyyan is always mistreated by her grandfather and is despised by her cousin Yaren (Ilay Erkok). Even though Reyyan has beloved parents, she always feels the lack of tenderness of her grandfather. She does not know that she is not the biological daughter of her father. For this reason, she does not understand why she is mistreated in the family.
In order to feel comfortable and get rid of her boredom, Reyyan always goes riding at dawn before everyone wakes up. One of these days, she bumps into Miran. When her horse is scared of the car, she gets injured and accepts Miran's help.
Miran turns this encounter into an advantage and takes the first step towards marriage. He mentions that he is willing to get married to Reyyan and asks the permission of Sadoglu family.
The head of Sadoglu family, Nasuh (Macit Sonkan), does not want to miss this opportunity. Since he thinks that Miran is a perfect groom candidate for the family, Nasuh wants to see Miran as a husband of his biological granddaughter Yaren. However, he cannot manage to change Miran's mind.
When Miran comes to Sadoglu mansion together with his family, he asks again for Reyyan's hand in marriage. Even though Reyyan does not have any feelings towards Miran, she cannot raise her voice and accepts the family decision. Nasuh's disapproval and Yaren's sorrow cannot be an obstacle towards their marriage.
Reyyan is reluctant to get married to Miran. She thinks that he is "hercai" (he has a fickle heart). She thinks that he is an unreliable person who has seduced Yaren but then, changed his mind and wanted to get married to another Sadoglu girl. When she learns that Miran has never wanted Yaren as a wife, she begins to trust him and develops feelings towards him.
Without knowing Miran's vengeance plan, Reyyan falls in love with Miran and thinks that she eventually has found happiness. Meanwhile, Miran is also attracted by Reyyan's pureness and develops some feelings towards her even though he tries so hard to stick to his original plan.
Hercai tv series story is about an impossible love between Miran and Reyyan who fall in love with each other but are destined to go apart due to the vengeance plan. Will Reyyan learn the vengeance plan of Miran before getting married? Will Miran forget about the past and live in peace? Will Miran manage to execute his vengeance plan properly? How will Reyyan react when she learns the truth about Miran? What is the truth about the death of Miran's parents?
Hercai Tv Series Cast
Akin Akinozu as Miran Aslanbey / Sadoglu (episodes 1-69)
Ebru Sahin as Reyyan Aslanbey / Sadoglu (episodes 1-69)
Ayda Aksel as Azize Aslanbey / Ayse Sadoglu (episodes 1-69)
Gulcin Santircioglu as Sultan Aslanbey (episodes 1-51)
Serhat Tutumluer as Hazar Sadoglu (episodes 1-65)
Macit Sonkan as Nasuh Sadoglu (episodes 1-69)
Ahmet Tansu Tasanlar as Azat Sadoglu (episodes 1-62)
Oya Unustasi as Gonul Aslanbey (episodes 1-62)
Ilay Erkok as Yaren Sadoglu / Bakircioglu (episodes 1-69)
Gulcin Hatihan as Handan Sadoglu (episodes 1-69)
Serdar Ozer as Cihan Sadoglu (episodes 1-69)
Duygu Yetis as Elif Aslanbey (episodes 1-38)
Feride Cetin as Zehra Sadoglu (episodes 1-29 , 42-69)
Cahit Gok as Firat Demiralp / Aslanbey (episodes 1-69)
Gunes Hayat as Esma Demiralp (episodes 1-69)
Emrullah Omay as Mahmut (episodes 1-69)
Zuhal Yalcin as Asiye(episodes 35-69)
Baris Yalcin as Mahfuz (episodes 39-69)
Elvan Demirez as Seyda (episodes 40-69)
Dilaray Yesilyaprak as Zeynep Aslanbey (episodes 47-69)
Eylem Tanriver as Keriman Cetin (episodes 1-12)
Gokhan Yavuz as Riza Demir (episodes 1-17)
Sarp Ikiler as Caner Katirci (episodes 8-17)
Inci Sen as Nigar Katirci (episodes 1-29)
Aydan Tas as Sehriyar Taskin (episodes 5-25)
Aydan Burhan as Hanife Derbent (episodes 1-44)
Dogan Bayraktar as Aslan Aslanbey (episodes 39-49)
Ebrar Alya Demirbilek as Gul Sadoglu (episodes 1-50)
Ahmet Kayakesen as Harun Bakircioglu (episodes 26-59)
Asli Samat as Melike Astutan (episodes 1-64)
Guven Hokna as Sukran (episodes 24-64)
Rana Cabbar as Gabriel (episodes 23-29)
Atilla Pakdemir as Yusuf Aga (episodes 13-36)
Aysun Metiner as Dilsah Aslanbey (episodes 53-65)
Halil Ibrahim Kalaycioglu as Mustafa (episodes 32-34)
Aysegul Gunay as Fusun Aslanbey / Bakircioglu (episodes 47-68)
Sera Kutlubey as Azra Bakircioglu (episodes 56-68)
External Links
Official Site: Broadcast Network
English Wikipedia:
Imdb:
Social
Instagram: Instagram – hercaidizi
Twitter: Twitter – @HercaiDizi
Facebook: Facebook – HercaiDizi
Youtube Channel: Youtube – @Hercai
You Might Also Like
Love is in the Sky (Yer Gok Ask)
Rebellious (Asi)
Hercai Turkish Drama Relationship Chart
Hercai Tv Series Trailer (with English Subtitle)
Hercai Turkish Series Trailer – 2 (with English Subtitle)