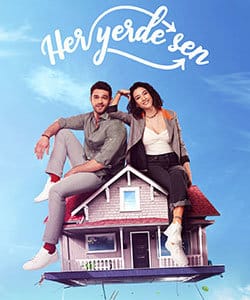 Details
Original Title:
Her Yerde Sen
English Title:
Everywhere I Go
Also Known As:
You Are Everywhere
Genre:
Comedy
,
Romance
Episodes:
23
Broadcast Network:
Fox Tv
Broadcast Period:
June 14, 2019 – November 23, 2019
Production Company:
Karga Seven Pictures
Director:
Ender Mihlar
Screen Writer:
Deniz Yesilgun
,
Esra Cetek Yilmazer
Synopsis
Demir (Furkan Andic) is a handsome young man who has a successful career as an architect. He refuses job offers from big companies and wants to work by his own with his own rules. For this reason, he returns to Istanbul after working in Japan and buys a small architect company which is about to go bankrupt. It does not seem to be a reasonable choice but Demir is confident that he could save this company through successful management within 1 year.
Demir wants to start a new life in Istanbul. After buying this company, he also buys his childhood home. However, his life turns upside down when he realizes that his childhood home is also sold to another person: Selin (Aybuke Pusat). Both Demir and Selin claim that they are the real owner of the house but they soon realize that they have just bought the 50% of the house. Both of them refuse to move out and do not know how to obtain the whole house. Demir does not want to move out because he wants to save his childhood memories. At the same time, Selin does not want to move out because she has bought and decorated this house after hardly persuading her parents who want her to get married. They do not have any choice but to share the house for a while.

When Demir arrives at his newly acquired company, he also finds out that Selin works there as an interior designer. The life in the workplace changes dramatically with the arrival of a new boss. Demir makes big changes in the workplace with lots of new rules including a notice stating that office romances would be prohibited.
Upon the arrival of their new boss, Selin's and her coworkers' life turn upside down. The newly engaged friends at the company find it difficult to continue office romance and break up. Selin also finds it hard to work with his control freaking boss. She makes a plan together with her coworkers to send back Demir. They make a plan named as "operation cheetah". According to this plan, Selin would do disturbing things at home like listening to high volume music, eating smelly foods at home, using spicy home odor and deodorant etc. By this way, she would do her best to make Demir move out of the house. Meanwhile, the office staff would do their best to frustrate their new boss through their troublesome clients. At the same time, they would try to break down the boss' defense and have him lift the anti-office-romance rule.
However, it would be too difficult to succeed in their plan "operation cheetah". Demir is very good at his job and he knows how to handle troublesome clients. Additionally, he is determined not to leave his house. Even though he has a totally different character than Selin, the two start to come through their differences. Demir is very organized and neat. Each day, he gets up too early, does his morning sports, and eats healthy food. On the other hand, Selin is messy, chatty, and fearless. She loves animals and she even feeds a goat in the garden.
The story becomes more complicated when Demir and Selin get closer and become attracted from each other despite their different characteristics.
Everywhere I Go (Her Yerde Sen) tv series story is about a young man who buys a small architect company which is about to go bankrupt and buys his childhood house but eventually ends up sharing his house with his employee. Will Selin manage to make Demir move out of the house? Will Demir eventually lift the anti-office-romance rule at the company? Will Demir manage to save the company within a year from going bankrupt? Will Selin and her coworkers eventually approve their new boss Demir?
Everywhere I Go (Her Yerde Sen) Tv Series Cast
Furkan Andic as Demir Erendil
Aybuke Pusat as Selin Sever
Ali Yagci as Burak Yangel
Aslihan Malbora as Ayda Akman
Ali Gozusirin as Ibrahim Tunc
Deniz Isin as Merve Mutlu
Ali Barkin as Bora
Fatih Ozkan as Ferruh Ozerdim
Cem Cucenoglu as Muharrem
Ayfet Tokatli as Azmiye Bosgecmez
Ayse Tunaboylu as Leyla Gunbakan
Binnur Serbetcioglu as Firuze Gunbakan
Aziz Caner Inan as Vedat Ayhan
Beste Kokdemir as Eylul
External Links
Official Site: https://www.fox.com.tr/Her-Yerde-Sen/
English Wikipedia:
Imdb:
You Might Also Like
Early Bird (Erkenci Kus)
Rental Love (Kiralik Ask)
Everywhere I Go (Her Yerde Sen) tv series trailer (English Subtitle)
Everywhere I Go (Her Yerde Sen) Tv Series Trailer (Eng Sub)