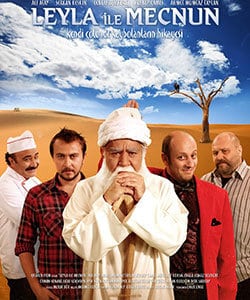 Details
Original Title: Leyla ile Mecnun
English Title: Leyla and Mecnun
Also Known As:
Genre: Comedy, Romance
Episodes: 104
Broadcast Network: TRT 1, Netflix
Broadcast Period: February 9, 2011 – June 17, 2013
Production Company: EfLAtun Film
Director: Onur Unlu
Screen Writer: Burak Aksak
Filming Locations: Kirecburnu, Sariyer, Istanbul; Ankara; Izmir; Yozgat
Synopsis
It is a surreal, absurdist comedy revolving around the poetic love story of Layla and Majnun.
Mecnun (Ali Atay) and Leyla (Ezgi Asaroglu) were born on the same day in the same hospital. Since there were not enough beds in the hospital, the two babies were put to the same bed. Seeing this absurd situation and inspired by the poetic love story of Layla and Majnun, the fathers decided to give the names of Leyla and Mecnun to their babies and agreed to make them marry 25 years later.
Destiny brings Mecnun and Leyla together as newborns and again years later.
Even though Mecnun has never seen Leyla for 25 years, he cannot persuade her father and goes to Leyla's house in order to ask her hand in marriage. He finds this situation nonsense. However, Mecnun falls in love with Leyla at first sight and wants to get married to her no matter what.

After their first encounter, Mecnun starts to see Leyla not only in his dreams but also everywhere in the daytime. He even meets a wise old man (Koksal Engur) in his dream and starts to get his advice in order to attract Leyla. During this journay, his friend Ismail (Serkan Keskin), grocery store owner of the neighborhood Erdal (Cengiz Bozkurt) and the thief of the neighborhood (Osman Sonant) accompany Mecnun.
In leyla and mecnun tv series story, you will explore the poetic love story of Leyla and Mecnun in an absurd way. Will Mecnun manage to attract Leyla at the end?
Leyla and Mecnun Tv Series Cast
Ali Atay as Mecnun Cinar (episodes 1-104)
Ezgi Asaroglu as Leyla Yilmaz (episodes 1-29)
Serkan Keskin as Ismail (episodes 1-104)
Cengiz Bozkurt as Erdal (episodes 1-104)
Ahmet Mumtaz Taylan as Iskender (Father) (episodes 1-104)
Koksal Engur as old wise man (episodes 1-104)
Osman Sonant as Yavuz (Thief) (episodes 1-104)
Melis Birkan as Leyla Yedinci (episodes 63-103)
Muge Boz as Sirin (episodes 30-61)
Zeynep Camci as Sedef (episodes 30-61)
Ege Tanman as Kaan (episodes 1-104)
External Links
Official Site: https://www.trt1.com.tr/arsiv/leyla-ile-mecnun
English Wikipedia:
Imdb:
You Might Also Like
I Missed Too (Ben de Ozledim)
Grind Stone (Isler Gucler)
Leyla and Mecnun Tv Series Gallery