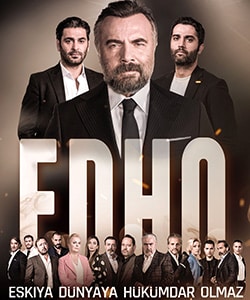 Details:
Original Title: Eskiya Dunyaya Hukumdar Olmaz
English Title: Bandits
Also Known As:
Genre: Mafia, Action, Romance
Episodes: 200+
Broadcast Network: Atv
Broadcast Period: September 8, 2015 – Present
Production Company: Pana Yapim
Director: Onur Tan
Screen Writer: Raci Sasmaz, Bahadir Ozdener
Filming Locations: Istanbul, Turkey
Synopsis
Hizir Cakirbeyli (Oktay Kaynarca) is a powerful and rich man who enters the underground world after his elder brother is killed. He vows to revolt against in justice and starts to produce weapons for the mafia leader. He is a trustworthy man and is known by his fidelity: He never betrays to his country and the people whom he works together with.
His character is also known by the government. The government thinks that there is not a better candidate than him in order to carry out the illegal activities. This is because; current mafia leader Unal (Tarik Unluoglu) continues to sell the weapons to Turkish enemies without considering the country's future. Therefore, the government calls Hizir and makes him an offer of becoming the greatest: the government will destroy the current mafia leader and Hizir will become the new mafia leader and in return, Hizir will be loyal to his country and stop selling weapons to Turkish enemies.

Hizir finds himself at a crossroads: he does not want to betray to the people whom he works and at the same time, he wants to protect his family. Even though he eventually decides not to work with the government, Hizir finds himself in a difficult situation due to current mafia leader's schemes.
Meanwhile, Hizir has some problems with his wife Meryem (Deniz Cakir) who is a very strong woman. Even though Meryem knows that Hizir has an affair, she tries to live with this fact for the sake of her children and her family as a whole. However, she cannot accept the fact that Hizir would have a baby from his girlfriend Nazli (Mujde Uzman). Meryem says that she can stand for Hizir's disrespectfulness towards herself but she cannot stand for Hizir's disrespectfulness towards her children. Therefore, she wants to do everything to prevent the birth of Nazli's baby and shows her power to other families in the mafia world.
in Bandits (EDHO – Eskiya Dunyaya Hukumdar Olmaz) tv series story, you will explore a mafia world where Hizir finds himself as a powerful man. Will Hizir climb to the top of the mafia world? Will Meryem forgive her husband's affair and continue to live as usual? Will Hizir manage to protect his family?
Bandits (EDHO – Eskiya Dunyaya Hukumdar Olmaz) Tv Series Cast
Additional Cast Members
Deniz Cakir as Meryem Cakirbeyli
Mujde Uzman as Nazli Meric
Tarik Unluoglu as Unal Kaplan
Sabina Toziya as Hayriye
Sevinc Gursen Akyildiz as Hatice
Incinur Dasdemir as Aysen
Sevcan Yasar as Esra
Hakan Karahan as Ozer
Kenan Coban as Fahri
Sanem Celik as Ceylan Ozsoy
Meryem Uzerli as Susan Eliot / Suzi
Olgun Simsek as Kimsesiz Yasar
Mesut Akusta as Ekrem Yildiran
Huseyin Avni Danyal as Tufan Tezyurek
Mustafa Ustundag as Boran Kayali
Ceren Benderlioglu as Omur Cakirbeyli
Burak Sergen as Feyyaz Meftun
Selda Alkor as Melike Meftun
Naz Elmas as Sevda Meftun
Ali Surmeli as Kimsesiz Dogan
Pelin Akil as Bahar Sincanli
Engin Benli as Yaman Korkmaz
Muhammed Cangoren as Besir Hamdi Korkmaz
Ragip Savas as Aziz
Emir Benderlioglu as Behzat Facali
Yalcin Hafizoglu as Hizir Ali Cakirbeyli
Sevil Aki Saner as Emine Ispirli
Tardu Flordun as Kaan
Eren Vurdem as Yakup
Burcu Binici as Deniz
Serdar Deniz as Civan
Sevinc Kiranli as Hatice Kalkandere
Hazim Kormukcu as Baris
Nurseli Idiz as Anna
Yosi Mizrahi as Tamer
Gozde Okur as Mine
Alara Turan as Yildiz
External Links
Official Site: Broadcast Network
English Wikipedia:
Imdb:
Social
Instagram: Official Instagram Account
Twitter: Official Twitter Account
Facebook: Official Facebook Account
Youtube Channel: Official Youtube Channel
You Might Also Like
Wolves of Valley (Kurtlar Vadisi)
Bandits Tv Series Gallery