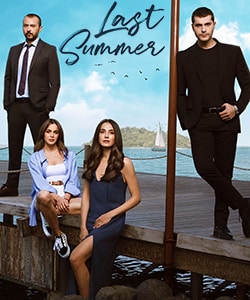 Details
Original Title: Son Yaz
English Title: Last Summer
Also Known As:
Genre: Romance, Drama
Episodes: 26
Broadcast Network: Fox Tv
Broadcast Period: January 1, 2021 – October 16, 2021
Production Company: o3 Medya
Director: Burak Arlier
Screen Writer: Deniz Dargi, Cenk Bogatur, Cem Gorgec
Filming Locations: Izmir Cesme, Istanbul
Synopsis
Selim (Ali Atay) is an idealist prosecutor who is married and has two children. He dedicates all his time to his work, lives in Istanbul apart from his family, and neglects his family most of the time.
Selim gets an interesting offer from Selcuk Taskin (Arif Piskin) who has been in prison for 8 years due to an organized crime. Selcuk Taskin is willing to become a witness and reveal all mafia relations in Istanbul. He has one condition: his son Akgun (Alperen Duymaz) would be protected by the prosecutor Selim.
Prosecutor Selim accepts this offer in order to end the mafia relations in Istanbul and starts to keep an eye on Akgun.

Akgun is a reckless and fearless guy who is 20 years old. He has grown up in a dangerous environment due to his father's mafia relations. Even though his father has been in prison for 8 years, Akgun still uses his father's name in this dark world.
Akgun cannot accept easily that his father would become a witness. He knows that neither he nor his father can survive if people learn that Selcuk Taskin is a witness.
Meanwhile, Selim learns that his wife Canan (Funda Eryigit) wants to get a divorce. He cannot communicate with his wife on phone and for this reason, he decides to go to Izmir in order to persuade his wife.
Selim has nothing to do but to go to Izmir together with Akgun. Selim and Akgun do not get along with each other but start a journey together. When they arrive at Izmir, Selim does not reveal Akgun's identity. They rent a house next to Selim's family house and decide to stay there until Selim persuade his wife.
The arrival of Selim and Akgun changes everything all of a sudden. However, Selim's wife Canan is determined not to take steps backward.
Canan has been married to Selim for 18 years and has two children. Her daughter Yagmur (Hafsanur Sancaktutan) is 18 years old while her son Altay is 15 years old.
Even though Canan studied law in Istanbul together with Selim, she has not been working for 18 years. When she got pregnant at her fourth year in the university, she had to get married to Selim and dedicate her life to her family.
Canan cannot stand her husband's neglect anymore. She becomes determined to get a divorce and start a new life as a lawyer. Her daughter Yagmur also supports her mother's decision. She also cannot accept the fact that her father neglects them.
The arrival of Selim and Akgun upsets the balances in Izmir. While Selim tries his best to gain his wife's trust, Akgun comes across to Yagmur in different occasions.
Last summer (son yaz) tv series story is about a reckless and fearless young guy Akgun who comes to Izmir together with his custodian. Will Akgun manage to escape from the prosecutor Selim's guardianship? Will Selim manage to persuade his wife and prevent her to get a divorce? Will Akgun get along with Yagmur? Will Akgun get used to living in Izmir?
Last Summer (Son Yaz) Tv Series Cast
Additional Cast Members
Yasemin Yazici as Naz Yaman
Erdem Sanli as Kaan Gok
Sarp Ikiler as Arda Ates
Ata Nedim Arman as Altay Kara
Yunus Narin as Eray Duraner
Cengiz Okuyucu as Ahmet Tunali
Yilmaz Bayraktar as Cihan Sancaktar
Onur Bay as Burak Sancaktar
Yaprak Medine as Cemre Sancaktar
Tayfun Sav as Yigit Mertoglu
Ilda Ozgurel as Sevval Mertoglu
Osman Kabakci as Ali
Zuhal Gencer as Kiymet Sancaktar
External Links
Official Site: Broadcast Network
English Wikipedia:
Imdb:
Social
Instagram:
Twitter:
Facebook:
Youtube Channel: @SonYazDizi
You Might Also Like
Tide (Medcezir)
A Bodrum Fairytale (Bodrum Masali)
Last Summer (Son Yaz) Tv Series Trailer (with English Subtitle)
Last Summer (Son Yaz) Tv Series Trailer (Eng Sub)