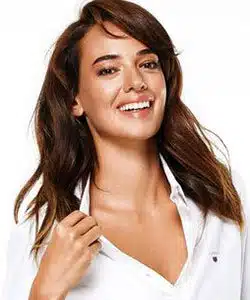 Profile
Name: Seda Bakan
Birthdate: October 10, 1985
Birthplace: Istanbul, Turkey
Height: 170 cm
Eye Color: Hazel
Hair Color: Brown
Education: Sakarya University External Trade (Sakarya Universitesi Dis Ticaret)
Spouse: Ali Erel (m. 2014)
Biography: Seda Bakan worked as spiker at television programs Number One TV, On Air, MTV Turkey and Base Chart. She started her acting career at Turvak Cinema Acting School (Turvak Sinema Oyunculuk Okulu). She became popular with her role Eda in popular Turkish drama Behzat C. (Behzat C. Bir Ankara Polisiyesi).
Seda Bakan Tv Series / Movies
2007 – 2008 Pars Narkoteror (as Zuluf)
2007 – I Am Obliged to You (Sana Mecburum) (as Leyla)
2008 – 2009 From Adana (Adanali) (as Basak)
2009 – Large Family (Genis Aile) (as Esma)
2009 – Hope (Umut) (as Meryem) (Movie)
2010 – 2013 Behzat C. (Behzat C. Bir Ankara Polisiyesi) (as Eda)
2010 – Macabre (Makber) (as Gunes)
2010 – Merry Home (Sen Yuva) (as Oya)
2011 – Behzat C. I Buried You in My Heart (Behzat C. Seni Kalbime Gomdum) (as Eda) (Movie)
2013 – Behzat C. Ankara is on the Fire (Behzat C. Ankara Yaniyor) (as Eda) (Movie)
2014 – 2015 Equal Share (Kardes Payi) (as Feyyza)
2014 – Time Machine 1973 (Zaman Makinesi 1973) (as Yasemin) (Movie)
2015 – White Night (Beyaz Gece) (as Leyla)
2015 – Black Trouble (Kara Bela) (as Burcu) (Movie)
2016 – 2017 Wings of Love (Bana Sevmeyi Anlat) (as Leyla)
2017 – Arif V 216 (Movie)
2017 – Partner (Ortak) (as Pinar) (Movie)
2019 – Oldur Beni Sevgilim (as Demet) (Movie)
2020 – Miracle Doctor (Mucize Doktor) (as Ferda Erinc)
Social
Instagram: https://www.instagram.com/sedabakan/
Twitter: https://twitter.com/bakanseda
Facebook: https://www.facebook.com/sedabakanofficial
Seda Bakan Gallery
Seda Bakan Magazin Cover
Special shooting with Seda Bakan (Created by Cem Talu)
Special shooting with Seda Bakan
Princess Elena with Seda Bakan's sound
Princess Elena SoundTrack