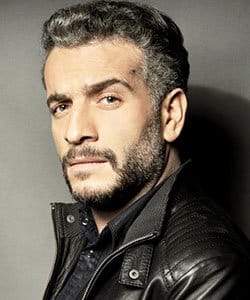 Profile
Name: Murat Cemcir
Birthdate: November 30, 1976
Birthplace: Niksar, Tokat, Turkey
Height: 172 cm
Eye Color: Brown
Hair Color: Black
Education: Mustafa Kemal University Machinery Department (Mustafa Kemal Universitesi Makine Bolumu)
Spouse:
Biography: Murat Cemcir was born in Tokat. He made his debut with his role in Calgi Cengi. He is interested in horse riding and Wing Chun. He became a good partner with Ahmet Kural after they took part in the same movie Calgi Cengi and then, worked together in various projects.
Notable Works
2002 – World of Secrets (Sirlar Dunyasi) (as Fatih)
2004 – Big Meeting (Buyuk Bulusma) (as Fatih)
2005 – Fifth Dimension (Besinci Boyut) (as Kenan)
2005 – Takva: A Man's Fear of God (Takva) (as Mahmut) (Movie)
2006 – Pars: Operation Cherry (Pars: Kiraz Operasyonu) (Movie)
2006 – Police (Polis) (as Huseyin) (Movie)
2008 – Veteran Soldier (Gazi)
2008 – Sacrificed (Kurbanlik) (Movie)
2009 – Beyond the Clouds (Bir Bulut Olsam) (as Asil)
2009 – Ramadan is Beautiful (Ramazan Guzeldir) (as Tankut)
2011 – Behzat C. (Behzat C. Bir Ankara Polisiyesi) (as Salih) (guest actor)
2010 – Kustum Cicegi (as Hidayet)
2011 – Underground (Yeralti) (as Sinan) (Movie)
2011 – Calgi Cengi (as Salih) (Movie)
2011 – While Going to Uskudar (Uskudar'a Giderken) (as Oguz Cemcir)
2012 – 2013 Grind Stone (Isler Gucler) (as Murat)
2013 – Merry-Making (Dugun Dernek) (as Ceto) (Movie)
2014 – 2015 Equal Share (Kardes Payi) (as Ali)
2015 – Merry-Making 2: Circumcision (Dugun Dernek 2: Sunnet) (as Ceto) (Movie)
2016 – Love of My Life (Hayatimin Aski) (as Anil)
2016 – Calgi Cengi Ikimiz (as Salih) (Movie)
2018 – Wild Pear (Ahlat Agaci) (Movie)
2018 – Surprised With the Whole Family (Ailecek Saskiniz) (Movie)
Awards
2013 – 4. Antalya Television Awards (4. Antalya Televizyon Odulleri) – Best Comedy Actor (Grind Stone) – Komedisi dizisi en iyi erkek oyuncu (Isler Gucler)
2015 – 42. Golden Butterfly TV Stars Awards (42. Altin Kelebek Tv Yildizlari Odulleri) – Best Comedy Actor (Equal Share) – En iyi erkek komedi oyuncusu (Kardes Payi)
Social
Instagram: https://www.instagram.com/muratcemcir/
Twitter: https://twitter.com/muratcemcir
Facebook:
Murat Cemcir Gallery