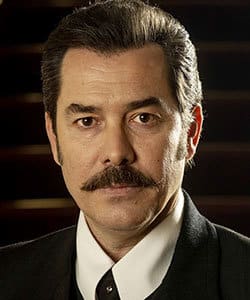 Profile
Name: Mehmet Fikret Kuskan
Birthdate: April 22, 1965
Birthplace: Istanbul, Turkey
Height: 170 cm
Eye Color: Brown
Hair Color: Black
Education: Istanbul University State Conservatory – Theatre (Istanbul Universitesi Devlet Konservatuvari Tiyatro); Berlin Goethe University
Talent Agency:
Spouse: Bahar Kerimoglu (m. 2005–2009), Arsevi Ozkara (m. 2014-present)
Biography: Mehmet Fikret Kuskan was born in 22 April 1965 in Istanbul. His father migrated from Albania and his mother migrated from Bulgaria. His childhood passed in Istinye, Istanbul. While he was 4 years old, his father became paralyzed and when he was 13 years old, his father passed away. After then, he quit the school and started to work at plumbery. After working for 1 year, he went to Tokat together with his uncle-in law and started to have a village-life. He lived in Tokat for 3 years and then came back to Istanbul to study high school. He studied at Haskoy High School. While going to high school, Fikret Kuskan also started to be interested in theatre. After graduating from high school, Fikret Kuskan founded a photography studio together with his friends. However, he wanted to do theatre and for this reason, he applied for Mimar Sinan State Conservatory but he did not manage to succeed it. The next year, Fikret Kuskan manage to get acceptence from Istanbul University State Conservatory.

Fikret Kuskan Tv Series / Movies
1988 – The Fog (Sis) (as Murat) (Movie)
1989 – Young People (Gencler) (as Sinan)
1990 – Iki Basli Dev (as Hakan Ozkan) (Movie)
1990 – The Secret Face (Gizli Yuz) (Movie)
1991 – Middle of Loneliness (Issizligin Ortasi) (as Ayhan)
1992 – Whistle if You Return (Donersen Islik Cal) (Movie)
1993 – Block-C (C-Blok) (as Haled) (Movie)
1993 – Cakallarin Izinde
1993 – Yaz Yagmuru (Movie)
1995 – Sahte Dunyalar
1995 – Ask Uzerine Soylenmemis Hersey (Movie)
1995 – Ozlem…Dune, Bugune, Yarina (Movie)
1996 – Black Angel (Kara Melek) (as Selcuk)
1996 – Salvation (Kurtulus) (as Kemrelik Yuzbasi)
1996 – Deniz Bekliyordu (Movie)
1996 – Sasifelek Dead-End (Sasifelek Cikmazi) (as Cesur)
1997 – Hunter (Avci) (Movie)
1999 – Issizligin Ortasinda (as Nazligul) (Movie)
2000 – It is Too Late (Artik Cok Gec) (as Haydar) (Movie)
2000 – The Belly Dancer (Dansoz) (as Isa) (Movie)
2000 – Son of Pudding Maker (Muhallebicinin Oglu) (as Suat) (Movie)
2001 – The Waterfall (Sellale) (as Cemal) (Movie)
2002 – Emanet (as Son of Abdurahman)
2002 – 9 (Dokuz) (as Tunc) (Movie)
2002 – The Fall of Abdulhamit (Abdulhamit Duserken) (as Enver Pasa) (Movie)
2002 – The Hittites: A Civilization That Changed the World (Hititler) (Movie)
2003 – People of the Captive City (Esir Sehrin Insanlari) (as Ihsan)
2003 – Bride (Gelin) (as Mustafa)
2003 – Pearl of the Town (Kasabanin Incisi) (as Sedat)
2003 – Everything About Mustafa (Mustafa Hakkinda Hersey) (as Mustafa) (Movie)
2003 – My Father Came Out of Hat (Sapkadan Babam Cikti) (as Celal)
2003 – Istanbul Tales (Anlat Istanbul) (as Rafet) (Movie)
2004 – Name it Love (Adi Ask Olsun) (as Cinar)
2004 – The Rose and the Thorn (Cemberimde Gul Oya) (as Kahraman)
2005 – My Father and My Son (Babam ve Oglum) (as Sadik) (Movie)
2005 – Autumn Fire (Guz Yangini) (as Oflaz)
2005 – Whatever You Wish (Sen Ne Dilersen) (as Musa) (Movie)
2005 – Journey (Yolculuk) (as Efran) (Movie)
2006 – Pilgrim (Haci) (as Faruk Gesili)
2006 – Neighmare House: Follow-Up (Kabuslar Evi: Takip) (as Ibrahim)
2007 – Knife Edge (Bicak Sirti) (as Orhan Ertugrul)
2007 – 2009 Behind Bars (Parmakliklar Ardinda) (as Ahmet Kalafatcioglu)
2009 – 2010 Lady's Farm (Hanimin Ciftligi) (as Orhan)
2011 – 2013 Life Goes On (Hayat Devam Ediyor) (as Ismail Bakirci)
2013 – Men (Erkekler) (as Adem) (Movie)
2014 – Tree of Life (Hayat Agaci) (as Murat Karahanli)
2014 – Forbidden (Yasak) (as Nazim Bey)
2014 – Taniklar (as Adnan Kahveci)
2016 – Double Bliss (Cifte Saadet) (as Metin Saadet)
2017 – Resurrection Karatay (Direnis Karatay) (as Ahi Evran) (Movie)
2017 – Swallow Storm (Kirlangic Firtinasi) (as Kudret Turaboglu)
2017 – 2018 For My Daughters (Kizlarim Icin) (as Yasar)
2018 – Champion for Us (Sampiyon) (as Ozdemir Atman) (Movie)
2019 – Miracle 2: Love (Mucize 2: Ask) (as Vedat Zenginer) (Movie)
2019 – 2020 Ruthless City (Zalim Istanbul) (as Agah Karacay)
2021 – Akif (Movie)
2021 – Destiny (Elkizi) (as Resul Bozdagli)
Awards
1991 – 28. Antalya Golden Orange Film Festival (28. Antalya Altin Portakal Film Festivali) – Best Actor (The Secret Face) – En Iyi Erkek Oyuncu (Gizli Yuz)
2002 – 14. Ankara Film Festival (14. Ankara Film Festivali) – Best Actor (9) – En Iyi Erkek Oyuncu (9)
2006 – 25. Istanbul Film Festival (25. Istanbul Film Festivali) – Best Actor (My Father and My Son) – En Iyi Erkek Oyuncu (Babam ve Oglum)
Social
Instagram:
Twitter:
Facebook:
E-Mail:
Trivia
Body Type:
Skills:
Star Sign:
Blood Type:
Hobbies:
Fikret Kuskan Gallery