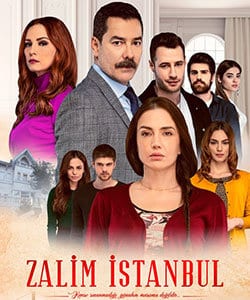 Details
Original Title:
Zalim Istanbul
English Title:
Ruthless City
Also Known As:
Genre:
Drama
,
Romance
Episodes:
12+
Broadcast Network:
Kanal D
Broadcast Period:
April 1, 2019 –
Production Company:
Avsar Film
Director:
Cevdet Mercan
Screen Writer:
Sirma Yanik
Synopsis
Agah Karacay (Fikret Kuskan) is a successful businessman who has a wealthy life. He lives in a big mansion together with his beautiful and ambitious wife Seniz (Mine Tugay), irresponsible son Cenk (Ozan Dolunay), carefree daughter Damla (Simay Barlas), and his disabled nephew Nedim (Berker Guven).
When Agah's elder brother is killed years ago, he not only is inherited by a huge fortune but also is taken over the responsibility of his 8-year old nephew. After then, Agah starts to raise his nephew. But something unexpected happens and Nedim becomes disabled because of an unexpected tragedy.
Even though Agah loves his nephew and tries to do his best to take care of his nephew properly, his wife Seniz wants to send this young boy away. Seniz keeps a secret related to her past and she does whatever is needed to continue to keep it secret. Seniz considers Nedim as her enemy since he is the only witness whatever has happened years ago. For this reason, Seniz wants to deteriorate Nedim's situation by giving him drugs in a secret way.

Without knowing all these things, Agah thinks that Nedim's treatment does not work. He feels desperate for not being able to help his miserable nephew. And the situation becomes more complicated when Agah learns that he has a heart problem. He starts to think what would happen to his disabled nephew if he ever passes away. Agah knows that if he ever dies, his wife, son, and daughter would leave Nedim alone. For this reason, he wants to find a girl who would get married to his nephew and end his loneliness. He knows that there would be of course one person who would be willing to get married to Nedim for the sake of money.
Agah assigns his servant Nurten (Gamze Demirbilek) to find an appropriate girl from his hometown Antakya. Nurten informs her friend Neriman (Aysen Sezerel) that her boss Agah Karacay is looking for a girl for his disabled nephew. In order to have a wealthy life, Neriman deceives his granddaughter Ceren (Bahar Sahin) and makes her believe that she would be rich if she accepts to get married to Cenk (Ozan Dolunay) who is the only heir of Karacay family.
Ceren does not know that she would be the bride of a disabled guy. She supposes that she woulg get married to a handsome heir Cenk. For this reason, she accepts to become a bride of Karacay family and starts to work together with her grandmother to persuade her mother Seher.
Seher (Deniz Ugur) is a trustworthy, proud, and conservative woman who does her best to keep her family together after her husband passed away. She has raised her three children by herself. Her eldest daughter Cemre (Sera Kutlubey) is a decent girl who works as a nurse. Her younger daughter Ceren (Bahar Sahin) is an ambitious girl who does not refrain from doing something bad for reaching her purposes. Her only son Civan (Idris Nebi Taskin) is a restless young man who does his best to protect his family.
Seher does not know the plans of her ill-intentioned mother-in-law Neriman. She just knows that Karacay family is looking for servants who would work at Istanbul. But still, she does not want to leave her hometown and for this reason, she rejects this offer. However, both Ceren and Neriman do their best to persuade Seher: firstly, Ceren breaks off her engagement; secondly, Ceren discloses that her sister Cemre is working as a folk singer besides working as a nurse at hospital; and finally, Ceren burns their house at the fight.
After their house is burnt, Seher has no choice but to go to Istanbul. Whenever they arrive at Istanbul, they settle into outbuilding located near to Karacay mansion. Still, nobody knows what would they do in this big mansion but just assumes that they would work as servant. However, soon after, Seher learns that the reason to come to Karacay mansion is to sell her daughter.
Ruthless City (Zalim Istanbul) tv series story is about a disabled guy whose life changes dramatically after a family from a small town comes to Istanbul. How will Seher behave after she learns that her mother-in-law has agreed with Agah Karacay? What will Ceren do when she learns that she is supposed to get married to disabled Nedim instead of Cenk? Will Cemre manage to save Nedim's life with her care and treatment? Will Seniz manage to keep her secrets? Will Ceren eventually fulfill her dreams of becoming rich? Will Cenk eventually find a true love? How will the life of Karacay family change after the arrival of Seher and her children? Will Nedim become healthy again?
Ruthless City (Zalim Istanbul) Tv Series Cast
Fikret Kuskan as Agah Karacay
Mine Tugay as Seniz
Deniz Ugur as Seher
Ozan Dolunay as Cenk
Berker Guven as Nedim
Bahar Sahin as Ceren
Sera Kutlubey as Cemre
Simay Barlas as Damla
Idris Nebi Taskin as Civan
Aysen Sezerel as Neriman
Gamze Demirbilek as Nurten
External Links
Official Site: https://www.kanald.com.tr/zalim-istanbul
English Wikipedia:
Imdb:
Instagram: https://www.instagram.com/zalimistdizi/
Twitter: https://twitter.com/zalimistdizi
Facebook: https://www.facebook.com/zalimistdizi
You Might Also Like
Mrs. Fazilet and Her Daughters (Fazilet Hanim ve Kizlari)
Gallery
Ruthless City (Zalim Istanbul) Turkish Drama Relationship Chart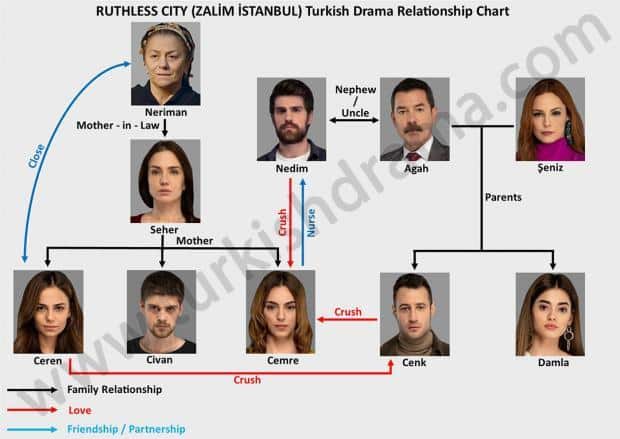 Trailer – 1 (with English Subtitle)
Ruthless City (Zalim Istanbul) Turkish Drama Trailer (Eng Sub)
Trailer – 2 (with English Subtitle)
Ruthless City (Zalim Istanbul) Turkish Drama Trailer 2 (Eng Sub)